When Was The Last Time Thomas Markle Spoke To Meghan?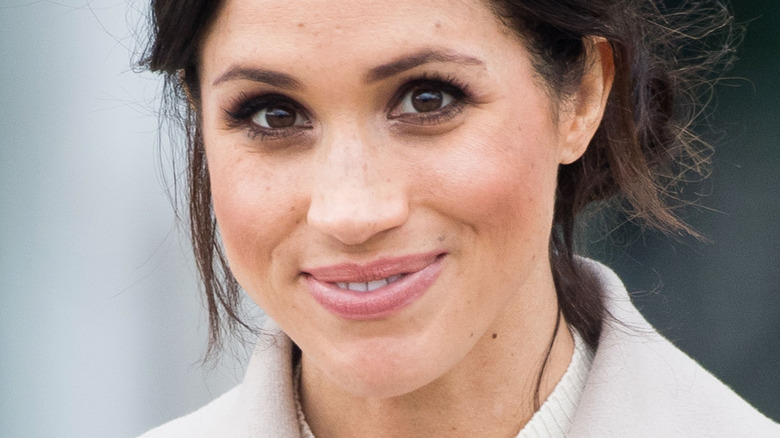 Shutterstock
Thomas Markle gave an interview to "60 Minutes" Australia following the birth of his granddaughter Lilibet Diana. Meghan Markle's dad seems to appear with new interviews every time there's a big event in the lives of his daughter and Prince Harry. But after his latest media chat, some fans wonder when the 76-year-old last spoke to his daughter Meghan?
According to the Daily Mail, Thomas called the Duke and Duchess of Sussex "cold." He appeared angry that Harry and Meghan refused to see him and said even "axe murderers" get family visits. Via the Daily Mail, Thomas said, "I'm not an axe murderer. I made one dumb mistake and I've been punished for it. This show they've been on, they talk about compassion, there's no compassion for me, no compassion for my family, and no compassion for the world." But Thomas might be forgetting a few things in the horrible situation with his daughter.
After the embarrassing situation Thomas created before his daughter's wedding, he did a "Good Morning Britain" interview in July 2018, per The Sun. According to The Sun, one of Meghan's dad's most hurtful actions was sending a letter from Meghan to the British media, which harmed his relationship with his daughter. Keep reading to learn about the last time Thomas spoke to his daughter.
Thomas Markle has not spoken to Meghan Markle for three years
According to the Daily Mail, Meghan Markle and her dad had not talked since before her wedding to Prince Harry in 2018. That means Thomas Markle has not spoken to his daughter in three years. Even though the former Hollywood lighting director only lives a few hours away from Meghan and Prince Harry, Thomas told "60 Minutes" Australia that he's never met either of his grandkids (via the Daily Mail). In the previews of the "60 Minutes" interview and the press about it, Thomas appears to make himself a victim of circumstance.
But as mentioned earlier, one of the biggest reasons Meghan cut off contact with her father was his betrayal. According to Cosmopolitan, in 2019, Thomas sent the Daily Mail a letter Meghan wrote him after her wedding. Unfortunately, the U.K. newspaper published parts of the letter without Meghan's knowledge, leading to a lawsuit. Cosmopolitan published part of Meghan's heartbreaking letter, which reads, "Your actions have broken my heart into a million pieces not simply because you have manufactured such unnecessary and unwarranted pain, but by making the choice to not tell the truth as you are puppeteered in this. Something I will never understand."
The reasons for the break between Thomas and Meghan run deep. One way Thomas might repair his relationship with his daughter is to quit talking to the media. However, that appears to be something he won't do soon.