The Strange Way Casey Anthony's Time In Prison Was Like The Shawshank Redemption - Exclusive
Pool/Getty Images
The case of Casey Anthony is up there with the OJ Simpson trial as murder cases that captured equal measure of the public's imagination and condemnation. In 2008, Anthony's 2-year-old daughter Caylee Anthony went missing. From the beginning, her own family suspected foul play after they discovered the family car at an impound lot and told 911: "it smells like there's been a dead body in the damn car."
Casey was arrested shortly thereafter and awaited trial while police made a frantic search for little Caylee. Of course, Caylee was already dead, stuffed inside a bag, and ditched in a wooded area near the family's Orlando, Florida home. Casey would eventually be charged for murder, but her not guilty verdict let to incredible public outrage. She would, however, be found guilty of the far lesser crime of lying to investigators. Her defense team argued Caylee's death was accidental — that she drowned in a pool — and the jury acquitted her. 
During Casey's time in prison awaiting both the discovery of Caylee's body and her eventual trial, she struck up an unlikely friendship with a woman named Robyn Adams. Their intimate conversations are now the subject of a fascinating new Lifetime show, "Cellmate Secrets." In an exclusive interview with Nicki Swift, Adams shares just how much their story mirrors an all-time great film, "The Shawshank Redemption."
Casey Anthony's time in prison was a lot like the movies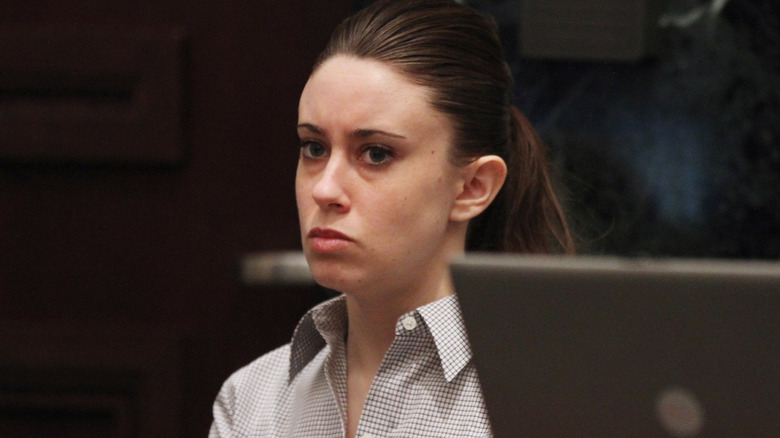 Pool/Getty Images
In "The Shawshank Redemption" Morgan Freeman's character, Red, befriends new inmate Andy Dufresne, played by Tim Robbins, whom Red describes as so out of place that it "looked like a stiff breeze would blow him over." Andy, of course, was wrongly convicted, and Red, unlike the other men inside Shawshank, freely admits he is a murderer, jokingly referring to himself as, "the only guilty man in Shawshank." Being so different, the two characters need each other to make it through their painfully interminable sentences.
For Casey Anthony and Robyn Adams, the situation was the same. When the two met, Adams, who was sentenced for marijuana distribution-related offenses, and Anthony were both on strict and psychologically challenging 23-hour lockdowns. "We had a lot of common ground to share," Adams told Nicki Swift of Anthony of the fast friendship. Both women were highly literate readers. Adams was a nurse on the outside. Anthony's education was more informal, but it was still a meeting of the minds. "The fact that we were both educated was just a bonus," Adams explained, "because we were able to have intellectual conversations with each other and really enjoy our conversations with each other. It was just, you know, for lack of better words, just the better option to pass time."
The trick Casey Anthony and Robyn Adams borrowed from The Shawshank Redemption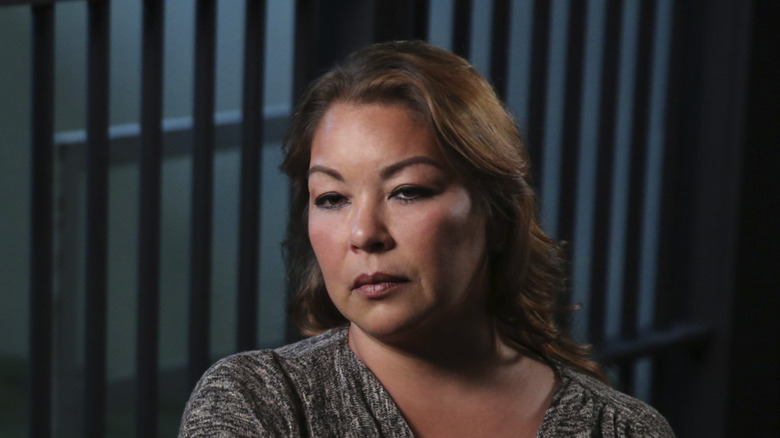 In "The Shawshank Redemption," the stakes on prisoner misconduct are high. A brutal warden enforces draconian rules with sometimes lethal force. That made Brooks, the elderly prison librarian, the ideal conduit for illicit prison communication. It is Brooks who delivers to Andy, via his book cart, the very contraband that will eventually lead to his escape and righteous freedom.
Casey Anthony and Robyn Adams took advantage of that same medium in their own maximum security situation. The friends first met in passing, but ultimately used the prison book cart for most of their correspondence. Just as in Shawshank, this wasn't exactly playing by the rules, but it was what they could get away with. "She's actually the one who initiated it, " Adams told Nicki Swift. "Even though it's a community book cart, the way that we were able to exchange these notes is we picked very specific books that were more on an educated level."
From there the relationship blossomed. "Shortly after that, it turned into more of one-on-one conversations with each other that we were able to have," revealed Adams. "I think the root of our friendship was because we were both parents." The women also shared the toll incarceration took on their entire circle. "In both of our families, you know, when one person is incarcerated, their families are, too — their loved ones are, too."
"Cellmate Secrets," narrated by Angie Harmon, continues with Joyce Mitchell on June 18 and Chris Watts on June 25 at 10 pm/9c on Lifetime.