Who Is Vladimir Putin's Girlfriend?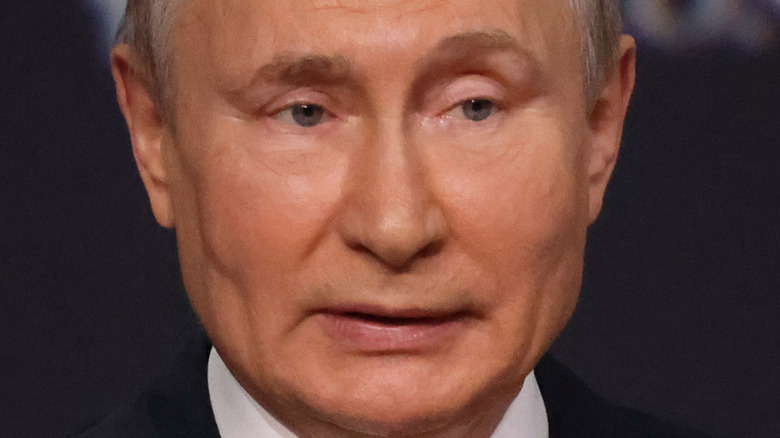 Mikhail Svetlov/Getty Images
Russian President Vladimir Putin's longtime girlfriend has quite the interesting résumé. Alina Kabaeva was a gymnast, model, and politician, before she became a media mogul who reportedly vanished following the birth of her twins in 2019. A Russian tabloid explained (via Daily Mail), "After the giving-birth-to-twins reports nothing was heard about Kabaeva, as if she had disappeared. Alina is not giving interviews, nor attending social events, nor participating in any TV programs."
At the time of that report, Kabaeva's last public appearance had been in 2018, when she defended her Ph.D. thesis at a university. Despite a period of being MIA, she did release a statement as the head of the National Media Group to Russia's women's gymnastics team in May 2021, which read, in part: "I am very glad that we have all returned to the life we used to have, with training, competitions, tournaments and the Olympic Games."
So, how did a former teen gymnast end up becoming Russia's "secret first lady?" It appears to have started when she met the then-married Putin in 2000. At the time, Kabaeva was at the height of her fame and known as "the most supple woman in Russia," according to New York Post. Yet, she wasn't linked to Russia's president until 2008, when a tabloid reported Putin left his wife of 30 years, Lyudmila Putina, for a woman half his age. Putin never confirmed this, but did once say (via The Sunday Times), "I've always had a negative feeling about people poking their snotty noses and erotic fantasies into other people's lives."
Putin's girlfriend is an Olympic medal-winning media mogul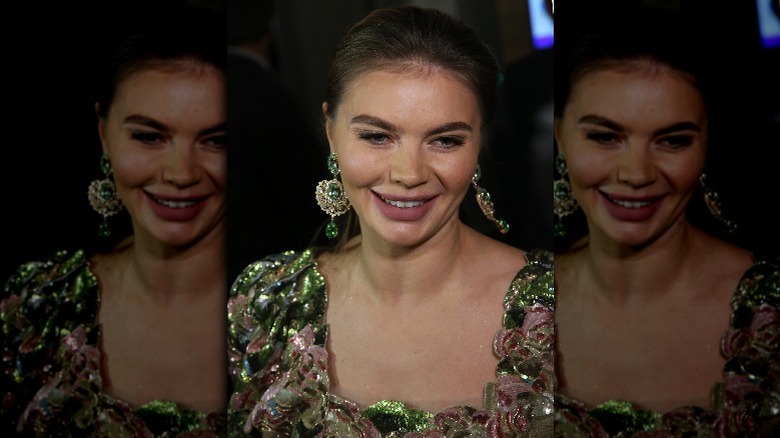 Mikhail Svetlov/Getty Images
Alina Kabaeva may make headlines these days for her relationship with Russian president Vladimir Putin, but she has an interesting career all on her own. According to New York Post, Kabaeva is an accomplished gymnast who won the gold medal in the 2004 Olympics before she retired from the sport the following year. Kabaeva then continued to stay in the spotlight as a model, even appearing on the cover of Vogue Russia for the January 2011 issue. According to Fashionista, the decision to put Kabaeva on the cover was polarizing, even sparking a bit of an "uproar."
But Kabaeva is more than just a pretty face. She held a seat on Russia's lower level of parliament for eight years and became the head of the National Media Group — which includes pro-Kremlin radio, TV, and print — in 2020. Outside of work, Kabaeva is the mother of four children, all of whom are alleged to belong to Putin, who also has two adult daughters from his previous marriage.
The couple is even rumored to be married after Kabaeva was spotted wearing the Russian version of a wedding ring during a trip to Italy. The gymnast remained mum, but was once quoted (via Daily Mail) saying that she met someone she "love[d] very much," adding, "Sometimes you feel so happy that you even feel scared." As for Putin, he's never confirmed the relationship, only admitting, "I like all Russian women." Don't count on Putin to confirm it any time soon; he has also said, "I have a private life in which I do not permit interference. It must be respected."
The gymnast seemingly vanished for three years, but recently reemerged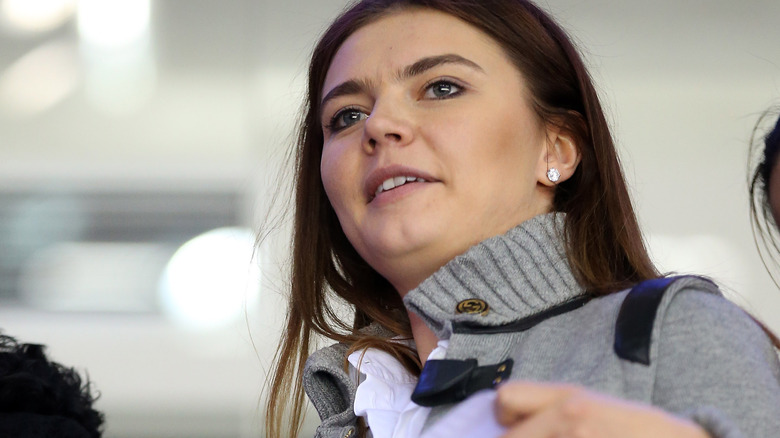 John Berry/Getty Images
After reportedly giving birth to twins in Moscow in 2019, who were supposedly fathered by Vladimir Putin, Alina Kabaeva wasn't heard from by the public for nearly three years, according to Daily Mail. In May 2021, she made a statement, via the Russian Gymnastics Federation, to cheer on the women's gymnastics team. Daily Mail notes that the statement came out a few days after fans complained about not being able to contact Kabaeva for her birthday.
But then, she reemerged to the public when she appeared on state television two months later to scold the judges from the Tokyo 2020 Olympics for not giving Dina Averina a gold medal in August 2021, per the Mirror. The U.K. outlet noted that she appeared to be wearing a wedding ring on her finger and said her comments to the judges were "Putinesque."
Per the same outlet, Kavaeva claimed that not giving the gold medal to Averina was a conspiracy against Russia and a "blatant injustice." She also added "our athlete was bluntly and unceremoniously deprived of the gold medal." Sounds like she has strong opinions when it comes to supporting her country, huh? Plus, as a former gymnast herself, it makes sense that she cares about the sport.