The Real Reason Vladimir Putin Got Divorced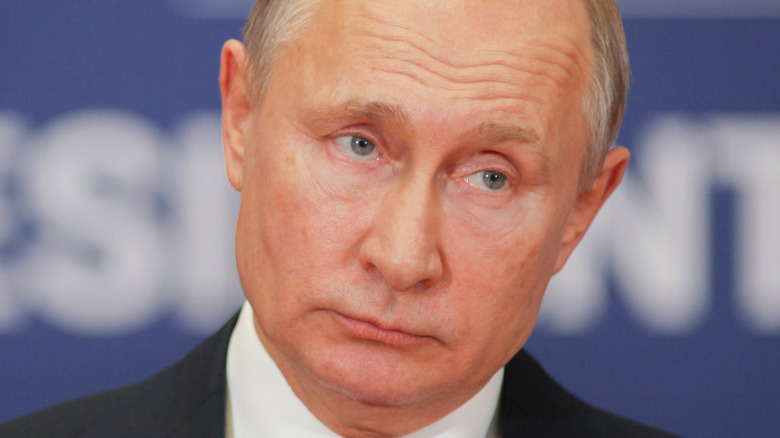 Shutterstock
Despite being one of the world's most famous leaders, Vladimir Putin leads a well-guarded, low-key personal life. Frequently characterized as hyper-masculine, Putin was the judo champion of Leningrad in 1976, per The Guardian, and broke the Internet in 2009 when he was photographed riding a horse bareback and bare-chested (via ABC News) in Siberia. He is, however, also the same man giving gifted puppies from foreign leaders unbridled and very public forehead kisses, as per NBC News, with Putin being a well-known canine aficionado. 
In fact, Putin's four dogs might be the most well-documented aspect of his home life. His "two, maybe three, daughters," as Insider put it, are deliberately shielded from media scrutiny. His oldest two, Maria and Katerina, per the outlet, are with ex-wife Lyudmila Shkrebneva and were home-schooled once he became acting president, then attending university under false identities. "Not all fathers are as loving with their children as he is," Shkrebneva once said on Putin's softer side, per Insider. "He has always spoiled them, while I was the one who had to discipline them." 
To emphasize the Russian leader's value of privacy, rumors of a "secret" third daughter, Yelizaveta Vladimirovna (allegedly the product of an extramarital affair) remain unconfirmed to this day, the Daily Mail reported. Putin and Shkrebneva finalizing their divorce in 2014, per the BBC, was perhaps the last time the world leader spoke out on his love life. 
Keep reading for what he said led to their relationship's downfall. 
Vladimir Putin says he will "always be close" to his ex-wife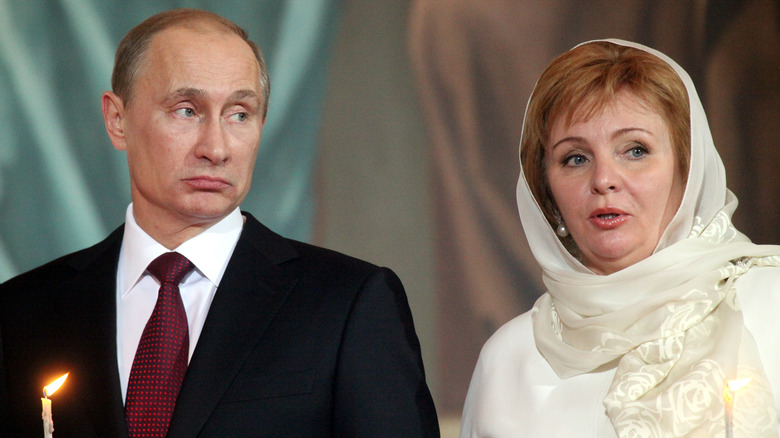 Sasha Mordovets/Getty Images
Rumors of Vladimir Putin being romantically involved with Olympic rhythmic gymnast Alina Kabaeva began floating around as early as 2008, six years ahead of his divorce finalization from ex-wife Lyudmila Shkrebneva, according to the BBC. The notoriously private Russian president officially announced the split on TV alongside Shkrebneva, shocking many at the time as just the week prior, official records stated Putin as "married."
"It was a joint decision," Putin declared on-air, revealing that "we hardly see each other, each of us has our own life." Per the BBC, Putin by then had already addressed and denied rumors in 2008 that he would divorce Shkrebneva for former Olympic gymnast Alina Kabayeva, who was one of six torchbearers at Russia's Sochi Olympics that year. According to his ex-wife, the separation was due to Putin being "completely drowned in work." As she continued in her portion of the statement about their two shared adult daughters, she is "very grateful to Vladimir... that he still supports me, and the children, he really cares for them and the children feel this." Shkrebneva also agreed with Putin when he said "We are always going to be very close to each other ... forever." 
For a man who has been much mythologized through the media's eye (just Google "Did Vladimir Putin really wrestle a bear?"), this sounded like a healthy and shockingly normal celebrity divorce.