Why Did Tom DeLonge Leave Blink-182?
Jerod Harris/Getty Images
Tom DeLonge and bassist Mark Hoppus founded Blink-182 in 1992 when they were seniors at San Diego's Rancho Bernardo High School, per NME. The band released its first album, "Cheshire Cat," in 1995 and its second, "Dude Ranch," in 1997, but it was 1999's "Enema of the State," which contained the hits "All the Small Things" and "What's My Age Again" that really put Blink-182 on the map (and on radio stations). "Enema" was the band's third album, but its first with drummer Travis Barker, per Billboard. The addition of Barker really solidified the San Diego trio's punk-pop sound.
DeLonge left Blink-182 for the first time in 2005 due to creative differences and pressure from his family, per Fascinate. At the time he had a 3-year-old daughter. His son was born in 2006. DeLonge returned to Blink-182 to but record 2011's "Neighborhoods" with Hoppus and Barker. He departed the band for the second and presumably final time in 2015. What led him to leave the band he founded?
Tom DeLonge has another band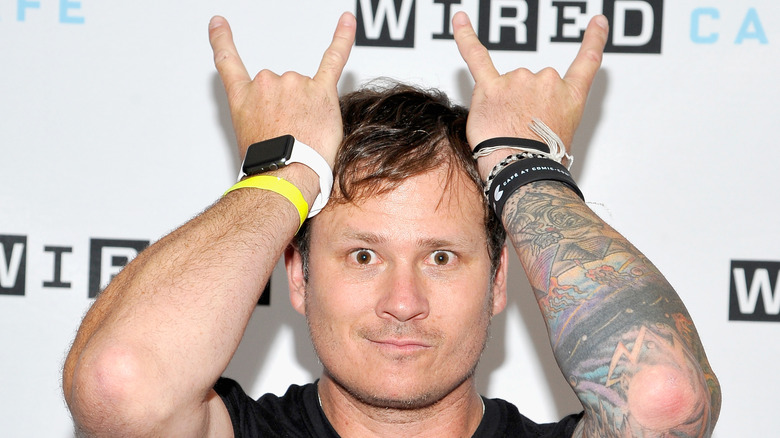 John Sciulli/Getty Images
Tom DeLonge left Blink-182 in 2005 and the band announced it was going on an indefinite hiatus. He founded his next band, Angels & Airwaves, that same year, per Fascinate. He promised Angels & Airwaves would be "the greatest rock and roll revolution for this generation," per MTV.
When DeLonge left Blink-182 for the second time in 2015, he left some confusion in his wake. DeLonge, Mark Hoppus, and Travis Barker were getting ready to head into the studio to record Blink-182's next album. In a 2015 interview with Rolling Stone, Hoppus said, "We booked January 5th to go into the studio. On December 30th, we get an e-mail from Tom's manager saying that he has no interest in recording and that he wants to do his other, non-musical stuff and that he's out indefinitely."
Hoppus said a bunch of emails went back and forth trying to make sense of the sudden change of heart. He continued, "... his manager sends [an e-mail] back saying, 'Tom. Is. Out.' Direct quote. This is the exact same e-mail we got back in 2004 when Tom went on indefinite hiatus before."
In the same interview, Barker called DeLonge ungrateful, saying, "It's hard to cover for someone who's disrespectful and ungrateful. You don't even have the balls to call your bandmates and tell them you're not going to record or do anything Blink-related. You have your manager do it."