Chrissy Teigen Reveals Emotional Backstory Behind New Tattoo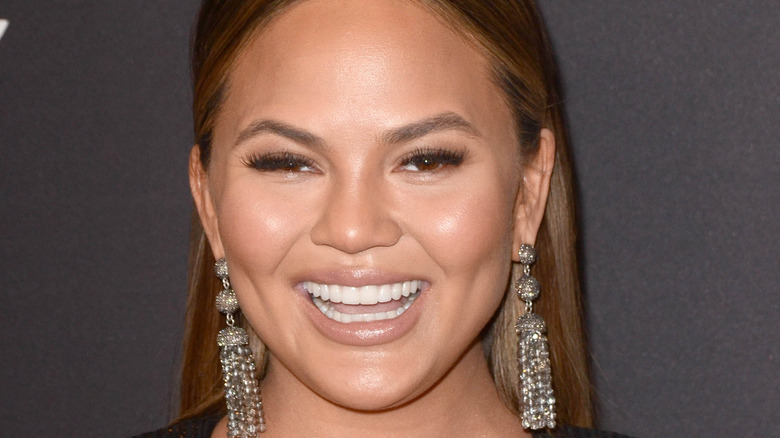 Shutterstock
Chrissy Teigen is known for regularly sharing her honest and often raw feelings on social media and in interviews. That was no different on June 14, when Teigen took to Medium to share a lengthy apology in response to bullying accusations. The apology came after the "#CancelChrissyTeigen hashtag trended on Twitter, and her stepping away from various projects. 
The mom of Miles and Luna and wife of superstar John Legend, who had been taking time away from social media and her massive social media followers, penned in part, "My goal is to be so good that my kids will think this was all a fairy tale. Not the fake good. The good that has the best intentions, the good who wakes up wanting to make her friends, family, her team and fans as happy as possible."
Shortly after, Tegein took to Instagram to share a personal Instagram post of her new tattoo — keep reading to find out the emotional backstory.
Chrissy Teigen's tattoo is rife with meaning
Chrissy Teigen's Instagram post has multiple layers — part of her post is an apology for the pain she has caused from cyberbullying, and the other part is her motherly love spilling out, addressing Luna's preschool graduation. Teigen wrote, "Today our beautiful little pod celebrated their preschool graduation. I sobbed from beginning to end, breaking for laughter only when john's much-anticipated-by-him commencement speech welcomed them to the workforce and listed the 5 p's as pizza, peanut butter, petey, penny, and parents. I sobbed because my god, what a year. But also, man. they're SO young." 
Perhaps hinting at her own troubles, the chef continued, "Their eyes are gonna see so much. They're going to experience pain, hurt, loss. But also love, success, unimaginable bonds with friends. Then I thought about what I've learned just in the past few months, and I feel a wealth of gratitude for life alone."
She then addressed the photo of the child-like drawing of a butterfly on her arm, explaining,"Luna drew this butterfly on me today, and it seemed fitting to make permanent...A little imperfect, a little messy, but hell, she's here to stay." Perhaps Teigen sees the butterfly as herself? Either way, she candidly concluded, "Lol. Love you all to bits, I really do. Even if you hate me, I can honestly say I do not hate you. I send you love. How annoying is that! You must be soooo annoyed!! Anyhoo, love you, love you, love you. Here's to the messes in progress."