Why Kendall Jenner Kept Her Love Life Private On KUWTK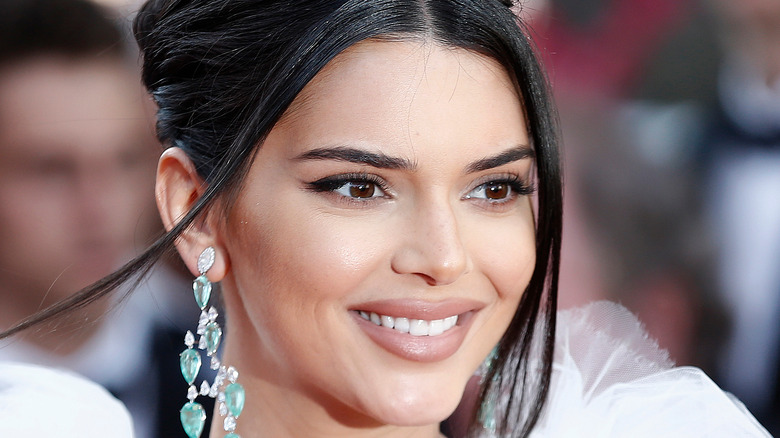 Shutterstock
For over a decade, "Keeping Up With The Kardashians" has never shied away from exposing all the highs and lows of the family's professional and personal lives. But for Kendall Jenner, her love life was one area that she would never showcase.
The 25-year-old supermodel started filming the E! reality show in 2007, back when she was just 11 years old. Early on, fans realized she took a backseat to her older sisters and didn't always want her life on full display, telling The New York Times, "Kylie and I, for a really long time, wanted no part of it. We just wanted to go to our rooms and iChat with our friends."
Over the years, fans have watched Kendall mature into the model and businesswoman she is today. Although not documented on the hit series, the 818 Tequila founder has had her fair share of romances over the years, being linked to musicians, Harry Styles and A$AP Rocky, as well as NBA players, Ben Simmons and Blake Griffin. Now, Kendall seems to be in a committed relationship with Phoenix Suns player, Devin Booker.
The happy couple just celebrated their one-year anniversary and it's fitting that they took to social media to share the momentous occasion. The cozy snap (via People) shows Kendall wrapping her arms around Booker, 24, while they play with their dog. The glimpse into their relationship is relatively rare, and it turns out there's a reason for that. Keep reading to find out Kendall's "rule."
Executive Producer of KUWTK reveals Kendall's one request
As "KUWTK" comes to an end after 20 seasons, executive producer Farnaz Farjam explains that Kendall Jenner was open to documenting her day-to-day routine but was adamant that her relationships would be for her only.
"Kendall's always had this rule, which she felt like she had to be with someone for at least a year before she lets them be a part of the show and in the show because she doesn't always know what people's intentions are," Farjam told Bravo's "The Daily Dish" (via E! News) on June 14. "So that's why we kind of kept her personal life out of it, just because she had a rule."
Kendall isn't the only one to have her voice heard on what makes it into each episode. According to Farjam, the whole family is heavily involved in the editing process. "They weigh in a lot in edit," Farnaz said. "And, ironically, they're very open with their own mistakes and their own feelings." With constant scrutiny and the public watching their every move, the family feels the need to be aware of what they put on display. "With more fame and more people judging you, watching you, talking about you, they got a little bit more guarded," she continued. "And I think that part became harder."
With the beloved series now officially over (save an Andy Cohen-hosted reunion), maybe Kendall will be more willing to give fans a glimpse into her adorable relationship. Then again, maybe not.