What Angela From Boy Meets World Looks Like Today
"Boy Meets World" is one of those TV series that, despite how much time has passed since the show ended, remains a fan favorite. The series ran from 1993 to 2000 and fans got to watch the show's stars Ben Savage, Rider Strong, and Danielle Fishel grow up before their eyes during its seven seasons on TV.
Actor Trina McGee joined "Boy Meets World" in 1997 as Shawn Hunter's high school love interest, Angela Moore. McGee ended up staying on the series until its end as one of the main characters and Shawn's girlfriend. She opened up about their interracial romance on the show to the Los Angeles Times in 1999, writing, "I get lots of positive reactions from both Black and white teenagers wanting to know when Shawn and I are getting back together." She added, "These kids are not looking at race; they're absorbing the love story."
McGee recently discussed the racism she experienced as the only Black cast member on the show. She told Yahoo Entertainment that it gave her "the feeling that I'm kind of being iced out of something." She continued, "I feel like I'm always the one who had to squelch it and move on," adding, "I didn't say it 20 years ago but I'm saying it now. And honestly, I said it way before I knew any of the world's changes were about to happen." However, it was opening up about these experiences that helped McGee reconnect with some of her costars.
Trina McGee looks like she's barely aged since playing Angela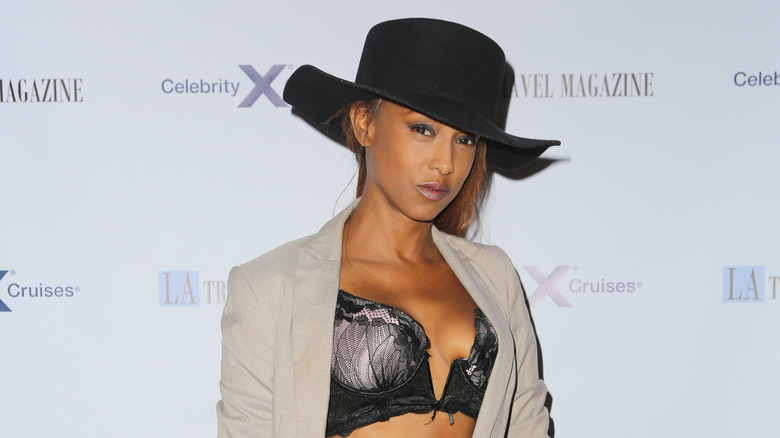 Tasia Wells/Getty Images
"Boy Meets World" ended over 20 years ago, but Trina McGee, who played Angela Moore on the show, looks like she hasn't aged a day since. The actor was in her late 20s when she portrayed a high schooler, as well as 10 years older than her costar Rider Strong, who played her love interest. These days when she's not sharing "Boy Meets World"-themed TikToks on her social media, she's showing off her good looks.
Fans got to see McGee in 2015 on an episode of the spinoff "Girl Meets World." USA Today reports that it was on that set where her former costar Danielle Fishel made McGee feel unconformable. The two apparently worked it out and Fishel later tweeted, "Trina and I spoke over a month ago and she gracefully accepted my apology." Former "Boy Meets World" actor Will Friedle has also since apologized to McGee after she revealed that he made racially insensitive comments towards her. McGee tweeted a photo of herself with Fishel and Friedle from the show, writing, "These two people in this pic with me have really gone out of their way to check on me, show sincerity and healing."
It appears that McGee has even stayed in touch with Maitland Ward, who played Rachel McGuire, recently tweeting that the two went to lunch. While some time has passed since McGee played Angela, it's clear the show still has a special place in her heart.