Is Meghan Markle Really Going To Go To The Unveiling Of Princess Diana's Statue?
Max Mumby/indigo/Getty Images
The unveiling of a statue that was sculpted in Princess Diana's honor is set to be erected in the Sunken Gardens at Kensington Palace and will be unveiled on July 1. For the past few months, there has been a lot of chatter surrounding whether or not Prince Harry will attend the unveiling ceremony, as he and his older brother Prince William first commissioned the statue back in 2017, according to Yahoo! Life, and this is thought to be a big deal to them both. However, as Harry's relationship with the royal family has become more strained since he and Meghan Markle decided to step down as senior members of the royal family, his attendance has been in question. 
Of course, the things that he has said about his life in the UK in various interviews and appearances this year have only made things more tense, casting more doubt on his potential participation in the event. Then, after Harry and Meghan shared the news that they were expecting their second child together back in February, it seemed more than obvious that Harry just wasn't going to make it; was he going to leave his wife home with a newborn? 
Now, there are even more questions: Will Meghan actually make the trip with him, knowing how important and special the celebration is going to be and wanting to support her husband? Keep reading to find out the latest.
Meghan Markle & Prince Harry may attend the event together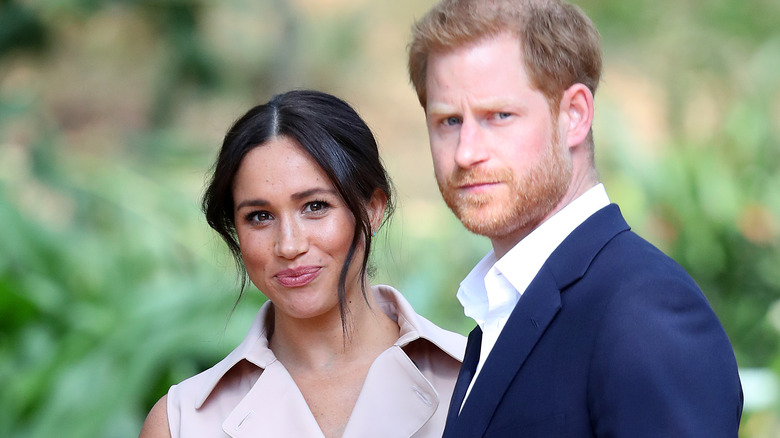 Chris Jackson/Getty Images
Lilibet Diana was born on June 4, just one month before Prince Harry would fly across the pond to be a part of the statue unveiling in memory of his late mother. Now that the newborn is here, some are wondering if both Harry and Meghan Markle would make the trip — and the answer isn't exactly clear. While it seems that Harry will do everything in his power to be a part of the unveiling ceremony, others suggest that he won't be going at all. Beyond that, there are reports that indicate that Meghan wants to make the trip as well. According to Radar Online, Meghan really wants to be there to support her husband. 
"Meghan knows how hard it was to attend his grandfather's funeral alone and doesn't want that to happen again. Harry was given the cold shoulder by most of his relatives, with several refusing to talk to him or even make eye contact," a source told the outlet, adding "Since the funeral things have got worse, not better, so you can only imagine how he will be treated at the big event on July 1st." The source went on to say that Meghan is expected to attend, and that the Duke and Duchess of Sussex would not be traveling with their newborn, but that their toddler, Archie, may accompany them.
The palace has not spoken out about this matter, and neither have Harry and Meghan.