How Tall Is Gymnastic Star Simone Biles?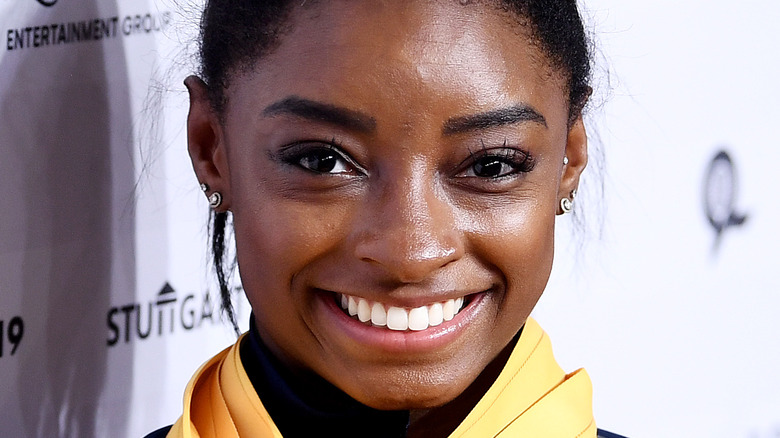 Laurence Griffiths/Getty Images
Simone Biles is nothing short of a legend. In 2019, when the gymnast was only 22 years old, she surpassed the veteran Vitaly Scherbo when she snagged five medals at the world championships in Stuttgart, Germany, bringing her total up to 25 against Scherbo's 22, according to Sports Illustrated. If we bring the medal count to home soil, there is no competition at all — Biles is the most decorated American gymnast of all of history. She is also transforming the sport, bringing new skills that are named after her — two of which she accomplished in Stuttgart, as Sports Illustrated noted. 
Biles also has five Olympic medals, after winning individual golds in vault and floor, a bronze in balance beam, and gold as part of the U.S. team at the 2016 Summer Olympics in Rio de Janeiro. In Tokyo in 2021, she will try to bring home a gold on the balance beam, which she didn't manage in 2016, according to NPR. "I fully expect her to be, if not the star of the Tokyo games, certainly one of the biggest names in all of the Olympics and in any sport," sports columnist Christine Brennan told the outlet. 
In addition to the accomplishments she achieved in Rio, Biles also broke another record that has nothing to do with gymnastics ... but with her height. Keep reading to find out how tall the gymnast is. 
Simone Biles was the shortest athlete to compete at the 2016 Olympics
At 4-foot-8, Simone Biles was the shortest American athlete to participate in the 2016 Summer Olympics in Rio de Janeiro, Brazil, reporter Darren Rovell wrote on Twitter. Her height drew attention at the time when she posed for a fun photo next to volleyball player David Lee, who stands at a towering 6-foot-8, two whole feet taller than Biles. Both athletes stood with their backs against each other as they smiled for the camera. Biles's head rested squarely against Lee's mid-back.
In a 2018 video for TODAY, Biles joked she wishes people would stop asking her if she's going to grow any more. "I'm not going anywhere, I'm 4-foot-8. I'm stuck," she laughed. Known for her strength on the floor, Biles discussed how she learned to love her muscular frame. "I got made fun for my arms a lot," she said in the video. "Some people would say mean things. They used to call me a soldier." Because of the negative comments, Biles went around wearing sweaters all day long, which mustn't have been pleasant at all, considering she grew up in the Houston area of Texas. 
While Biles must have felt different from her peers growing up, she fits right in with her fellow gymnasts. As Teen Vogue detailed, Biles's height is about average for the sport. According to Slate, the average female gymnast is 4-foot-9, a figure that has shrunk over the years.