The Truth About Drew And Stacy Peterson's Marriage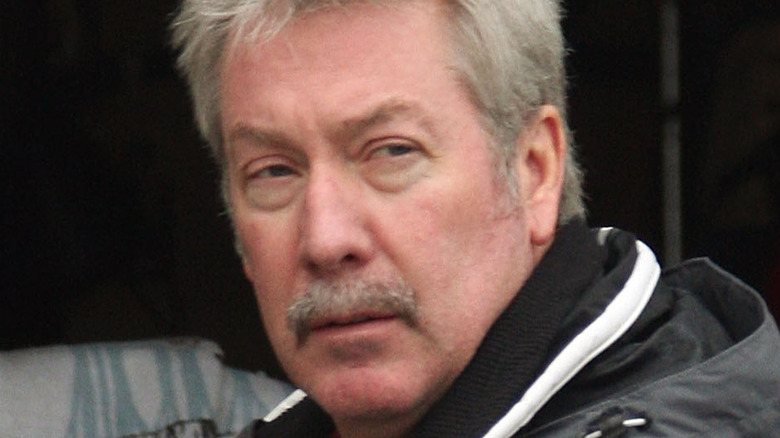 Scott Olson/Getty Images
Drew Peterson, a former Bolingbrook, Illinois police sergeant, is currently behind bars for the murder of his third wife, Kathleen Savio. But if he hadn't married his fourth wife, Stacy Ann Peterson (née Cales), he might have gone free. When Savio's battered body was found with a deep head wound in a dry bathtub in March 2004, just five months after their vicious divorce was finalized, her husband eluded authorities, who ruled her death an accidental drowning, per the Chicago Tribune. 
Drew was already married to Stacy by then, who was 20 years old when Savio died. Four years into her marriage and three years after Savio's death, Stacy went missing, as WGN9 noted. That's when widespread national attention was brought to Drew. While they investigated Stacy's disappearance, police reopened the Savio case and eventually named her ex-husband a suspect, ABC 7 Chicago detailed. In May 2009, Drew was charged with first-degree murder after a new autopsy report concluded Savio's body showed signs of a struggle, which a previous report had ruled out, according to NBC 5 Chicago. In 2012, a jury convicted Drew, who was sentenced to 38 years in prison, per KFVS12.
Stacy has never been found, and Drew has never been charged with any crimes in her disappearance, even though he was named a person of interest in the case. Even though more than a decade has gone by, Stacy's family still looks for her. Keep scrolling to learn more about Stacy and Drew Peterson's marriage. 
Stacy Ann Cales married Drew Peterson was she was 19 years old
Drew Peterson and Stacy Ann Cales married in October 2003, when he was 49 and she was 19. Her sister Cassandra Cales said Stacy, who was a hotel receptionist when she met Drew, was very much in love with him when they married, per the Chicago Tribune. Their first child, Anthony, was born that same year, and they welcomed Lacy in 2005. Stacy also adopted Drew's two children from his marriage to Kathleen Savio, who were teenagers by then. Drew courted the teenager, showering her with gifts and attention, ABC News detailed. 
But it wouldn't be long after they married that Drew began to show his possessive nature. As Cassandra Cales told the Chicago Tribune, he isolated Stacy, preventing her from having contact with her friends, pressured her to get breast implants, and constantly accused her of infidelity. Stacy was planning to file for divorce around the time of her disappearance, a friend, Bruce Zidarich, told ABC. "She would always look over her shoulder. She said, 'I'm gonna tell him that I want a divorce.' ... It came up more and more often," Zidarich said.
Drew has argued Stacy told him she was running off with another man, which is why he didn't bother looking for her, he told ABC News. However, Drew's former fiancee, Christina Raines, said in a 2021 episode of "Cellmate Secrets" (via Patch) that Stacy knew Drew had killed Savio, which is what "doomed her."