The True Meaning Behind 'Yonaguni' By Bad Bunny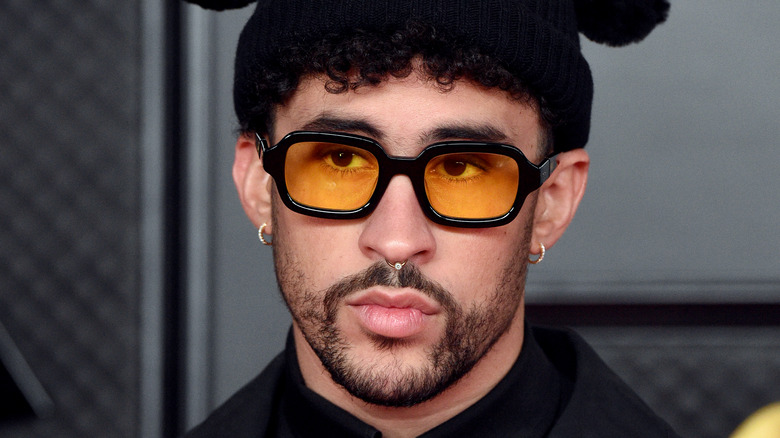 Kevin Mazur/Getty Images
Bad Bunny never disappoints when it comes to creating original music. On his latest single, "Yonaguni," the rapper gives his take on being heartbroken by telling the story of a woman he loves who moved far away to the Japanese island of Yonaguni. 
Bad Bunny dropped the track on June 4 and sings in not only Spanish but also Japanese! While it's a song about longing for someone, in true Bad Bunny fashion, it's still danceable. He explained his approach to Esquire, saying, "It's a balance is what people want. But that's the idea, make a balance, give the people (what) they want, like the street fire street bang, and also like a chill, sweet rhythm to dance and enjoy for the summer."
For those going through a break-up or in a long-distance relationship, the song's lyrics about missing someone and wanting to be with them are definitely relatable. In the chorus, Bad Bunny sings about his struggle with lyrics that translate to, "Even though I know that I shouldn't think of you, baby, but when I drink your name, your face, your smile, and your hair come to mind." In another verse, he shows how no one else compares, by singing "there were thousands at the club and I was dancing with you in my mind." 
But outside of the melancholy theme, Bad Bunny still manages to keep it fun by adding jokes to his lyrics and releasing a humorous music video to go with it.
Bad Bunny infuses humor into heartache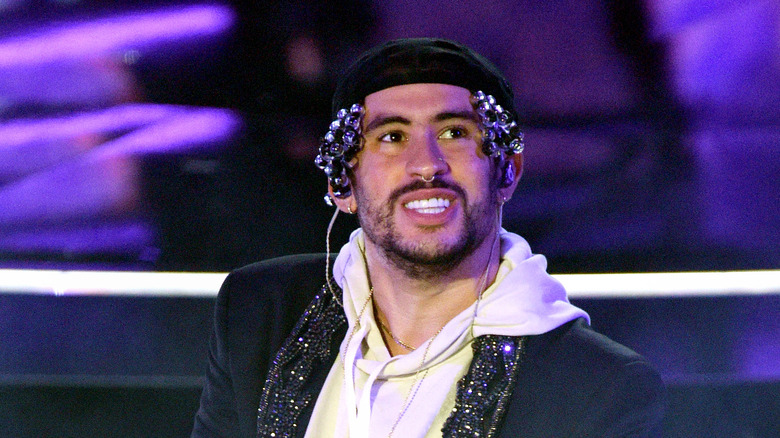 Kevin Mazur/bbma2020/Getty Images
In his new song, "Yonaguni," Bad Bunny sings about missing his love who moved to the island of Yonaguni, which is off the coast of Taiwan. In the lyrics, Bad Bunny sings about wanting to see his love again so much so that he's willing to make the long trip. His chorus translates to, "Tell me where you are, that I'll grab a flight for you and I'll go to Yonaguni." He seemingly even tries to convince his love to let him come, singing the lyrics, "If you give me your address, I'll send you thousands of cards. If you give me your bank account, a million dollars. I'll pray to God on my knees every night."
Bad Bunny even squeezes in some jokes by commenting on one asset he misses the most. He sings, "Shorty has a big butt ... And I've studied it, I'm graduating now. And I'll tattoo it on my face." Wow. The "Dakiti" singer later offers to buy this woman "a Banshee, Gucci, Givenchy, a poodle, a Frenchie [bulldog]" and vows to "sing you a mariachi."
The music video for the song also keeps it light, showing Bad Bunny hilariously doing a bunch of random activities like dog walking, painting, yoga, and even getting a tattoo of Pokemon Go, just to keep his mind off the woman who moved to Yonaguni. Leave it to Bad Bunny to make a song about heartache that's still a good time!