What We Know About Lauren Zima And Chris Harrison's Relationship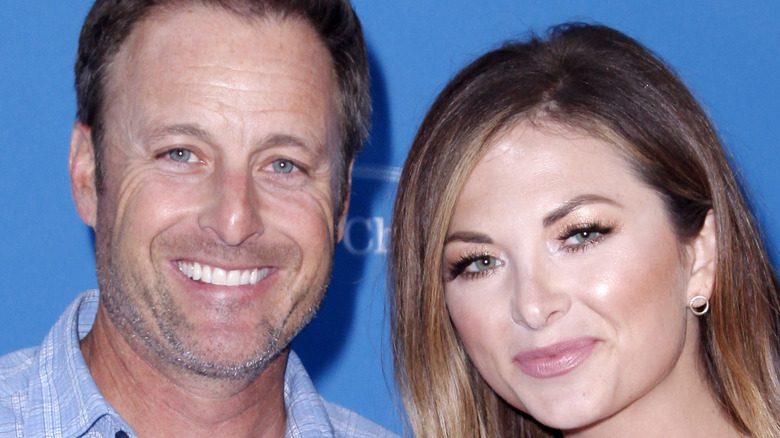 Tibrina Hobson/Getty Images
"The Bachelor" franchise has helped singles look for their soulmates for nearly 20 years, and sometimes, love blossoms off-camera. That certainly was the case for former franchise host Chris Harrison and entertainment reporter Lauren Zima. 
Harrison started hosting "The Bachelor" back in 2002, and at the time, he was married to his high school sweetheart Gwen (per E! News). The family lived in Los Angeles while raising their two kids, Joshua and Taylor. However, in 2012, after 18 years of marriage, they revealed they were divorcing. At the time, an insider told InTouch, "They are still really close and remain the best of friends." In addition, the outlet's source detailed, "It has been really amicable, with no other parties involved."
"It's been the most difficult part of my life," Harrison, then 40, told E!. "I keep a smile on my face because I have to, but Gwen and I, we've been together for 22 years, married for almost 19. So we grew up together and we have so much history, it would be foolish to not be friends."
Lauren Zima often covered "The Bachelor" and its spinoff shows in her work as an "Entertainment Tonight" correspondent. As Life & Style noted, she used to be married to a man named Charles McKeague. They had been together for about four years before splitting, and he officially filed for divorce in late January 2019 after being separated since March 2018. They had no children together.
So, how did these two connect?
'The Bachelor' sometimes works in mysterious ways
Former "Bachelor" host Chris Harrison told E! News in 2012 being single "scares the holy hell out of me." A few years later, a work connection turned romantic. As Lauren Zima told "Bachelor" Nick Viall, she'd previously interviewed Harrison many times. It'd always been professional, but one day, in a non-interview context, she "picked up a vibe" and shot him a direct message via social media.
That message sparked a new dynamic, but, as Harrison told Viall, "We did have the conversation of, 'Do we wanna do this?' We could tell there was chemistry and we really liked each other," but they paused before mixing business and pleasure. They quietly dated for a while and went public in January 2019, detailed Life & Style. That August, Zima celebrated their first anniversary and noted, "In this year I've leaned on you, laughed with you and fallen in love with you for the incredible man that you are."
Next July, Harrison celebrated their second anniversary. "We were sneaking around just getting to know each other, having fun and turns out falling in love. I've been falling more and more for you ever since," he wrote. Isolating together throughout the 2020 coronavirus pandemic "helped us love each other more, respect and ... appreciate the little things in each other a lot more," he told People. Then, an April Instagram post prompted speculation Harrison and Zima had married. They hadn't, but they do seem happier than ever.