Who Is Melinda Melrose From Too Hot To Handle?
Summer is about to get a whole lot hotter with the premiere of Season 2 of Netflix's "Too To Handle." Fans will get to meet the latest batch of sexy singles on June 23, and the rules of the dating show are staying firm this time around. 
As you may recall, the contestants must stay celibate, including no kissing, no heavy petting, or personal pleasure of any kind, to have a chance of winning the grand prize. And if these singletons can't follow the rules, they "will see the $100,000 prize drop faster than our contestants' libido in the least sexy vacation getaway of their lives," a press release from the streaming service states, per People.
However, aside from trying to resist their fellow eye candy, their limits will be tested by the romantic ambiance of their 8,000-square-foot beach villa located in Turks and Caicos. One of the bikini-clad ladies expected to hit the sand is 28-year-old model Melinda. Keep scrolling to learn more about the bombshell.
Melinda Melrose might have found true love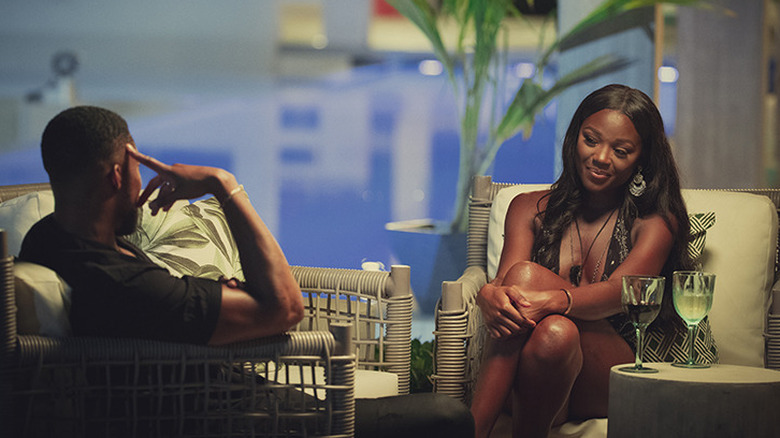 Tom Dymond/Netflix
The cast of Season 2 of "Too Hot To Handle" is a scorcher thanks to Melinda Melrose. Hailing from Brooklyn, N.Y., the beauty is one of 16 siblings, "but that doesn't stop her from standing out in a crowd," People, who exclusively revealed this season's contestants, reported.
With her looks and physique, it's no surprise Melinda works as a model, and according to the outlet, "Melinda loves to be complimented so her modeling work suits her just fine." However, this stunner isn't just a pretty face. Described as a "self-professed firecracker," Melinda has her eye on the prize. "Going into the retreat she's a predator on the hunt, with the boys in her sights," the outlet said, but it looks like the show's goal to help the contestants form meaningful connections instead of casual flings, might have been accomplished with Melinda.
According to the show's trailer, which the model shared on social media, she can be seen telling the camera, "If this is what love feels like, I don't ever want to lose it." It sounds like there may be a happy ending in Melinda's future.