The Strange Thing Brandi Glanville Just Said About LeAnn Rimes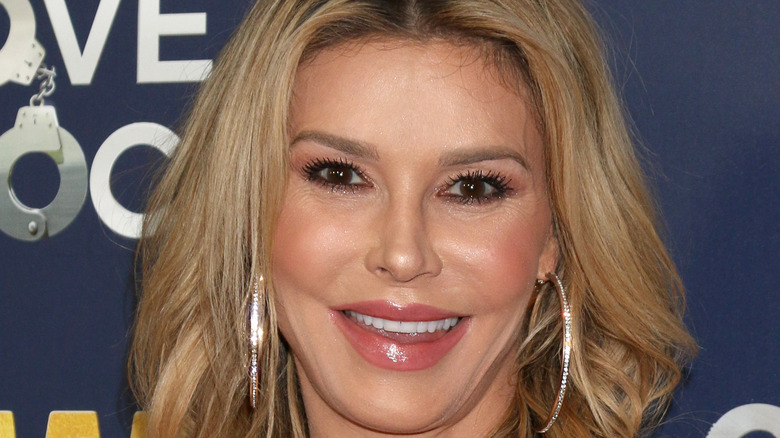 Shutterstock
We'll say it: "The Real Housewives of Beverly Hills" hasn't been the same since Brandi Glanville left the cast. You just never knew what she was going to say next, which was thrilling. Case in point, the odd way she just described LeAnn Rimes — you know, the woman Brandi's ex-husband Eddie Cibrian cheated on her with and ultimately married. That LeAnn Rimes.
The Brandi, Eddie, LeAnn saga is a long and dramatic story that somehow also involves fellow Bravolebrity and "Vanderpump Rules" star, Scheana Marie Shay. For obvious reasons, the affair and Brandi and Eddie's subsequent divorce caused some bad blood between Brandi and LeAnn. Brandi has said that LeAnn was not "stable," accused her of showing up at her house unannounced, and predicted that she and Eddie would eventually be divorced as well, per Us Weekly.
Then, mysteriously, Brandi tweeted in 2018 that the feud was officially over, and the big blended family even wound up celebrating Christmas together. So what does Brandi have to say now?
Brandi Glanville has a new relationship with LeAnn
"We're like sister wives," Brandi Glanville said on the Hollywood Raw podcast with Dax Holt and Adam Glyn. She added that she and Eddie Cibrian would always be in each other's lives (they do have kids together after all) and that they still bicker like they're married. "It's me and LeAnn and Eddie." Brandi explained more about their relationship, saying, "It's not like you forget it, but you forgive it and you move on." She also said, "The truth is LeAnn and I get along really well."
For those not in the know, "sister wives" refers to the relationship between multiple wives in a polygamous marriage. We're not here to pass judgment on anybody's domestic habits so Brandi, LeAnn, and Eddie can do whatever they do. While it doesn't make for quite as compelling television as down and dirty feuding, we can't lie that we're glad to see Brandi and LeAnn finally getting along in their big blended family.
That said, this is Brandi we're talking about here — there's no telling if she'll change her tune at some point. All we know is that if she does, she will not be shy about it.