How Many Grandchildren Does Jimmy Carter Have?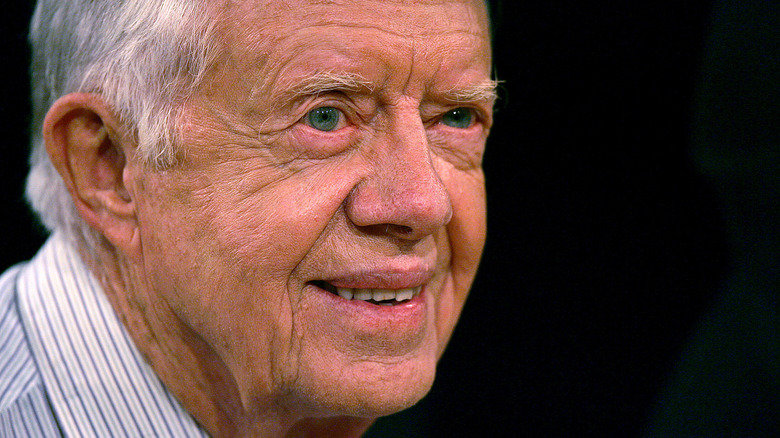 Mark Mainz/Getty Images
As the oldest living president in the United States, Jimmy Carter has carried the title of former president for four decades, having occupied the White House between 1977 and 1981. Carter has also dedicated much of his time to philanthropy, having been recognized with the Nobel Peace Prize in 2002 for "his decades of untiring effort to find peaceful solutions to international conflicts, to advance democracy and human rights, and to promote economic and social development," per the Norwegian Nobel Committee (via Politico).
Carter additionally spent his post-presidency years dedicating time to his family. His wife, Rosalynn, has been by his side since 1946, meaning they will celebrate their 75th anniversary on July 7. They have four children — three sons, Jack, James III, and Donnel, and one daughter, Amy. According to Joshua Kendall's book "First Dads: Parenting and Politics from George Washington to Barack Obama," Carter "saw his sons as extensions of himself," putting considerable pressure on them to succeed.
In the early 1980s, his eldest child, Jack, confronted him about his childhood during a hunting trip, telling his father that "the way you treated me as a child almost ruined my life," per author Kendall. It took Carter a while, but he eventually realized he hadn't been a great parent. Since then, Carter has worked hard to compensate for his early shortcoming by spending a lot of time with his family. 
Keep reading to learn how many grandchildren he has.
Jimmy Carter has a massive family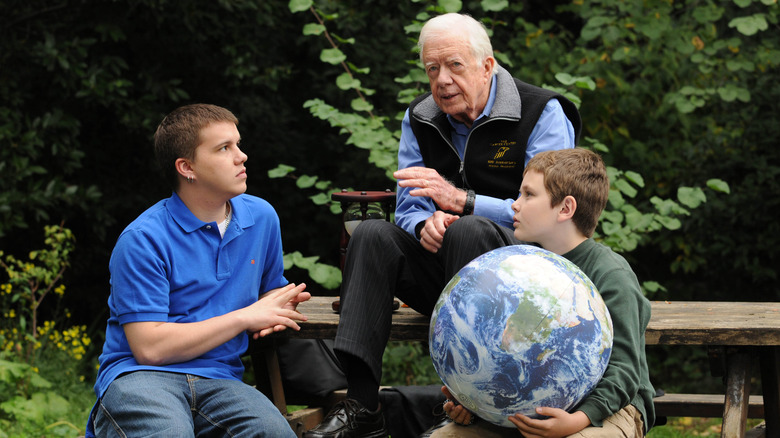 Handout/Getty Images
Jimmy and Rosalynn Carter's eldest son, Jack, has two children from his first marriage; Jason and Sarah Carter. The Carters' second son, James, also had a daughter and a son; Margaret Alicia and James Earl Carter. Donnel Carter broke the mold by having three; Jeremy (pictured here on the left), Joshua, and James Carter. Their daughter Amy only had one child with her husband James Wentzel; a boy named Hugo James Wentzel (pictured on the right). 
In December 2015, Jeremy tragically died at the age of 28 from an apparent heart condition, CNN reported. Jimmy Carter also has two step-grandchildren, John Chuldenko and Sarah Reynolds, who are the children of Jack's second wife, Juliet "Judy" Langford Carter, from her first marriage, according to Country Living. Having turned 96 in 2020, the former president has also lived long enough to meet great-grandchildren. In a 2015 interview with CNN, Carter shared that he has "22 grand and great-grandchildren, 38 of us [immediate family members] in all." Wow!
In the previously mentioned book "First Dads," Joshua Kendall noted that Jimmy and Jack Carter were estranged for a few years. But since rebuilding his relationship with his son, the former president has dedicated consistent time to his family. Carter makes sure to get everyone together to celebrate Christmas and New Year's as a family, per Kendall. "We try to hold our family together and just enjoy the family life," Carter told CNN.