Here's How Much Money Jimmy Carter Is Really Worth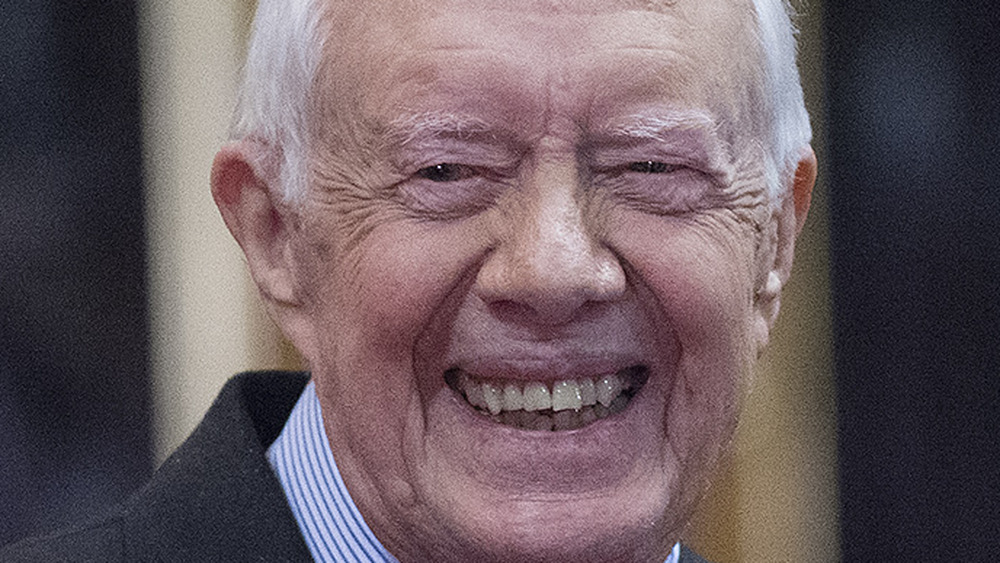 Wpa Pool/Getty Images
Former President Jimmy Carter settled back into a modest lifestyle after leaving the White House in January 1981. He and his wife Rosalynn built up an impressive net worth over the years, but they also garnered a reputation for being quite frugal.
By all accounts, Jimmy and Rosalynn led a quiet life filled with charity and down-home activities in the decades after leaving Washington, D.C. (per The Washington Post). He often flew commercial when traveling and he would frequently greet other passengers throughout the flight. 
"He doesn't like big shots, and he doesn't think he's a big shot," noted Carter's former communications director Gerald Rafshoon.
The Carters became regulars at their church, Maranatha Baptist Church, and the former president taught many Sunday school lessons there. In addition, they frequently walked up and down Church Street in their hometown of Plains, Georgia, regularly visiting with others in town. They remained in the same town where they grew up, with no regrets.
"We feel at home here. And the folks in town, when we need it, they take care of us," Carter has noted.
Based on this lifestyle, there's no doubt that Jimmy Carter's actual net worth will surprise you.
Carter returned to his roots — with a hefty bank account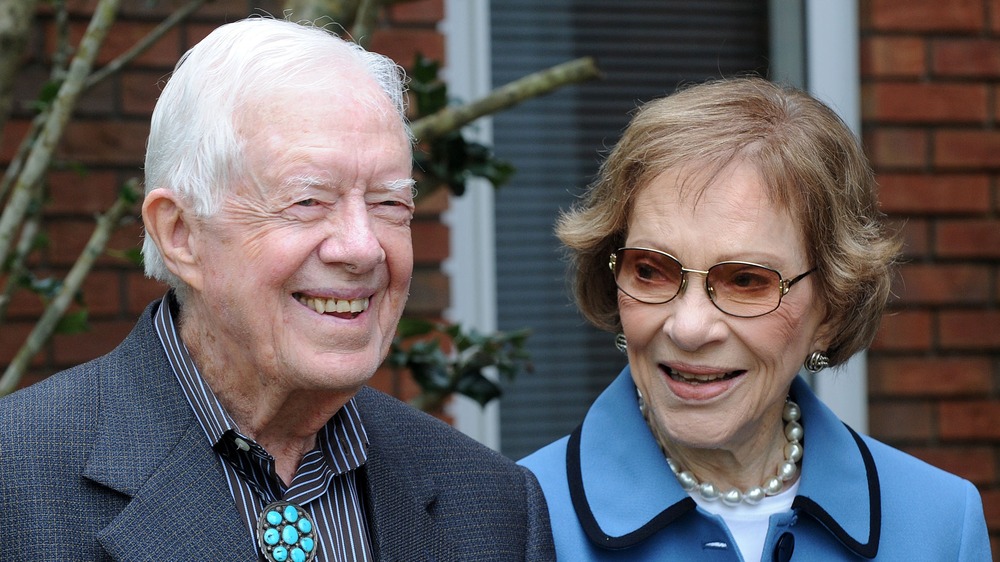 Chris Mckay/Getty Images
According to The Washington Post, Jimmy Carter and his wife Rosalynn built a ranch home in Plains, Georgia, in 1961. After the president's term ended in 1981, they returned to that home where they've stayed for the past few decades. The home is about 4,000-square-feet and has four bedrooms along with three bathrooms, and its assessed tax value has remained under $200,000 (via Zillow). After returning to Georgia, Carter chose not to pursue high-paying speaking engagements or board appointments. 
"I don't see anything wrong with it; I don't blame other people for doing it. It just never had been my ambition to be rich," he's said.
When Carter returned to Georgia, his peanut business was failing and needed to be sold. It was reportedly sold for $1.2 million in March 1981, just weeks after Carter's White House term ended. He started writing books, and his publisher Simon & Schuster touts 20 different titles that he's released. However, the books reportedly didn't generate the astronomical paychecks that more recent presidents have received.
Carter continued to receive his annual pension of $210,000 per year and he taught at Emory University in Atlanta for nearly 40 years, noted CNN. His combined efforts over the decades ultimately allowed him to grow a net worth of $10 million, per Celebrity Net Worth. The former president and his wife may have generally stuck to their frugal habits, but they certainly built up a solid net worth.