The Truth About Mike Wolfe And Danielle Colby's Relationship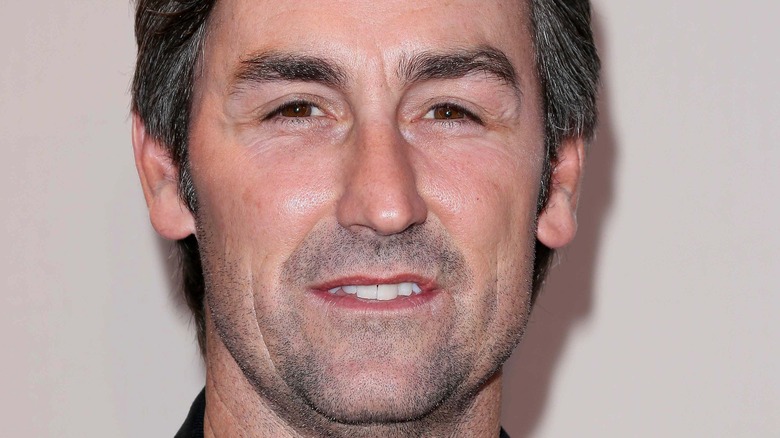 Shutterstock
Mike Wolfe became a household name with the debut of "American Pickers" in 2010. The History channel show followed Wolfe and his partner, Frank Fritz, as they traveled around the United States as antique and collectibles pickers. Anything that the two found and picked would either be resold to clients or it would go into Wolfe and Fritz's personal collections.
It turns out that 5.5 million viewers a week enjoyed how Wolfe and Fritz offered a different approach to antiquing and collecting that appears more relaxed and casual than a Sotheby's or Christie's auction, per the New York Times. Their key to success, as Wolfe explains, is that "We don't wear blue blazers and have 10 cats and talk about Ming Dynasty vases." But make no mistake — Wolfe and Fritz are still elite in the industry, making deals and negotiations with collectors around the country.
But aside from his professional adventures, Wolfe has always kept his private life away from the producers' cameras and the eyes of his audience. What's going on in Wolfe's love life? Did anything ever happen with Danielle Colby who worked at his Antique Archaeology store? Read on to find out!
Mike Wolfe and Danielle Colby are just business partners
Mike Wolfe, Frank Fritz, and Danielle Colby instantly became familiar faces with their History Channel show, "American Pickers." The show featured Wolfe and Fritz traveling through the United States in search of the best "picks," antiques, and collectibles country-wide, while Colby managed Wolfe's antique store, Antique Archaeology, based in Le Claire, Iowa, reported the New York Times. With 22 seasons of "American Pickers" over the past 11 years, was there ever a relationship between Wolfe and Colby?
This may squash some fans' dreams, but it turns out that Wolfe and Colby's relationship has only ever been platonic and business-related, but they do have significant others. Wolfe has been married to Jodi Faeth, an accountant that he met in 1994 and later married in 2012, according to The Sun. The two even share a daughter named Charlie. Colby, meanwhile, hasn't had such a smooth romantic life. She has two children, Miles and Memphis, with ex-husband Robert Strong, but the marriage ended due to attention from the show. Colby told WQAD-TV in 2012 that "fame and notoriety are not easy for [Strong] to deal with, at all. So the relationship ended up not working out." After, Colby was briefly married to French artist Alexandre De Meyer from 2015 to 2018, per the Sun. Now, Colby has found happiness with underwater photographer Jeremy Scheuch, per her Instagram.
While their personal lives have definitely been eventful, Wolfe and Colby have never been involved romantically. It's probably a good thing since it would have made that one episode even more awkward.