Are Zooey And Emily Deschanel Close?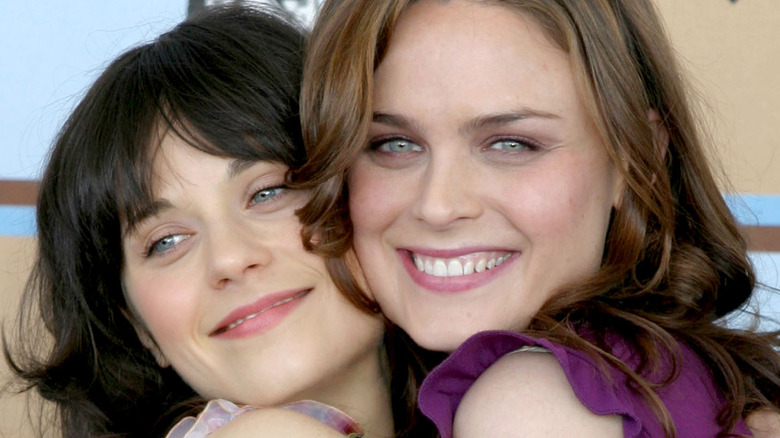 Shutterstock
There's a reason Emily and Zooey Deschanel are often mistaken for the other: they are sisters. Despite not being twins, the resemblance between the two actors is uncanny. Any fans of the Fox crime drama "Bones" will recognize Emily as quirky forensic anthropologist Dr. Temperance "Bones" Brennan. Zooey is best known for starring in the television series "New Girl" as middle-school teacher Jess Day. 
The sisters may both be successful actors now, but only Zooey dreamed of a career on the big screen. During a BuddyTV interview (per The Things), Emily revealed that she was not always destined for the acting life. "I think we both loved doing plays since we were really young. But I didn't think of it as doing it as a profession," Emily explained. "I think Zooey knew she wanted to be an actress from when she was very young. Whereas I didn't think I wanted to do that..." In fact, Emily wanted to be an architect before deciding to study acting at Boston University.
It makes sense that the two sisters both ended up becoming television and movie stars as their mom, Mary Jo Deschanel, is an actor, too (via IMDb). She can be seen in projects including "Twin Peaks," "The Patriot," and "The Right Stuff." Their father, Caleb Deschanel, is a successful cinematographer, rounding out the family destined for a career in show business (via IMDb).
Zooey and Emily followed similar paths in life, but do they share a close sibling bond, as well? Keep scrolling to find out.
Zooey and Emily Deschanel didn't always get along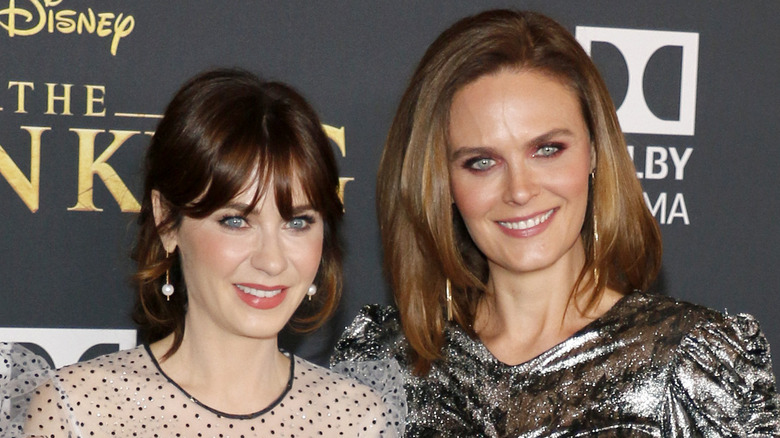 Shutterstock
According to ScreenRant, sisters Emily and Zooey Deschanel did not always get along. During an appearance on "Conan," Emily admitted that she used to torture her younger sister when they were growing up by convincing Zooey that she was a murderous alien. Emily would say, "Neptunians had [taken] my real sister and replaced her with a facsimile who looked just like her, talked just like her, but when my parents weren't in the room, made crazy faces at me." The teasing did not stop here, however. Emily took it a step farther. "I would tell her... that I'd [hurt] her sister and taken over her body, and that I was going to kill her next." For her part, Zooey could recall this game making her cry, which would only prompt laughter from her older sister.
Despite the rocky beginnings of their sibling relationship, the successful actors have come a long way since their childhood. In the same episode of "Conan," Emily said that she and Zooey "get along now very well." When the sisters both had a baby within two months of one another back in 2015, this experience brought them closer. On an episode of "Jimmy Kimmel Live!" Emily told the host that having a baby at the same time as her sister was "amazing," adding that they "couldn't have planned it better."
Between their busy work schedules and family life, Zooey and Emily do not have as much time to spend together as they would like, but that does not get in the way of their close sister bond.