The Strange World Record That's Held By Donnie Wahlberg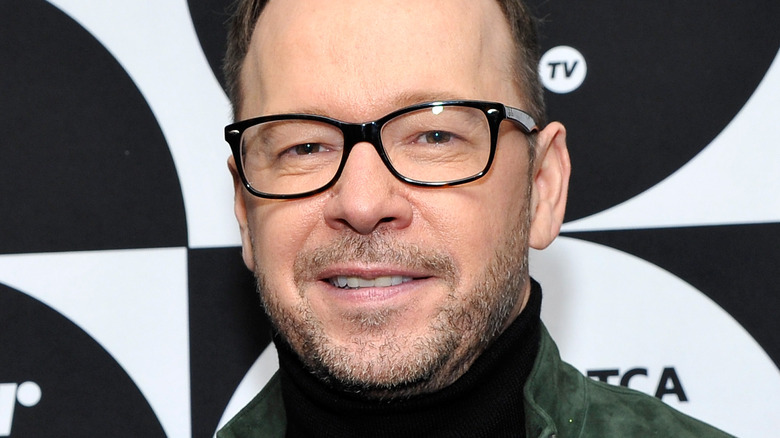 John Sciulli/Getty Images
Donnie Wahlberg is known for several things. Firstly, he is known for his founding role in New Kids on the Block, which was all the rage in the late 1980s and early 1990s. Having sold more than 70 million records, New Kids on the Block is often regarded as "the first commercially successful modern boy band," according to The History of Boy Bands. The young Wahlberg impressed producer Maurice Starr with his rapping skills and tough, street-like manner, and so the man behind New Edition signed him and the rest of the Kids, per The Columbus Dispatch.
But Wahlberg isn't just a boy bander. Following his success with NKOTB, Wahlberg went on to star in the 1996 films "Bullet" (sharing the screen with Mickey Rourke and Tupac Shakur) and "Ransom" (alongside Mel Gibson). Wahlberg's portrayal of Bruce Willis' patient in "The Sixth Sense" earned him further recognition, kicking off a successful acting career throughout the aughts, USA Today noted. Today, Wahlberg is a fixture on television, starring in the CBS drama "Blue Bloods" since 2010.
In addition to his music and acting accomplishments, Wahlberg is also known for his famous family. One among nine siblings, Wahlberg isn't the only one to have found fame in the entertainment industry — in fact, his younger brother, Mark, is likely the most famous Wahlberg. 
But in 2016, Donnie Wahlberg also become known for breaking a Guinness World Record. Keep scrolling to find out more about the impressive feat. 
Donnie Wahlberg's selfies broke a Guinness World Record
In October 2016, Donnie Wahlberg became the person to have taken the most selfies in three minutes, Guinness World Records reported. After snapping 122 photos with fans who lined up to pose next to him, Wahlberg broke the record of 119 previously held by digital enterprise company Aruba, according to the website. Wahlberg accomplished the feat aboard New Kids on The Block Cruise in Cozumel, Mexico. More than 3,000 fans of the band purchased tickets to sail alongside NKOTB stars, who launched the popular carnival cruise in 2008, as ABC News noted. 
Wahlberg had tried to break the record aboard the cruise the previous year, though he fell short. The Guinness World Records sent an adjudicator to the cruise ship to certify the deed, per its website. Wahlberg shared the title with his loyal fanbase who helped him in his accomplishment. "How does one break the Guinness World Records title for selfies? By doing it with the best fans on earth during our favorite event each year, the New Kids on the Block Cruise!" he told them, as noted in the website.
Interestingly, Dwayne "The Rock" Johnson is a previous holder of the record, after breaking it in 2015 at the premiere of his film "San Andreas" in London, Guinness World Records noted. While not a rule, it makes sense to have celebrities hold the title. After all, they shouldn't have any issues finding volunteers to help them.