NFL Player Carl Nassib Just Made A Major Announcement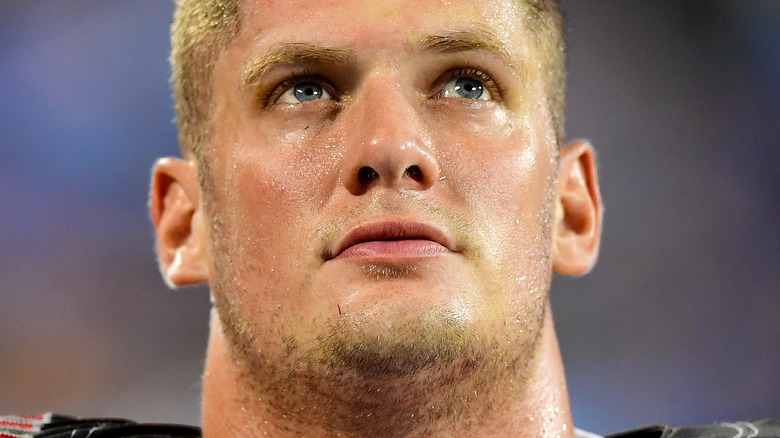 Jacob Kupferman/Getty Images
As a high-contact sport, it's no surprise that the NFL is full of towering linebackers, imposing quarterbacks, and muscular wide receivers. What the NFL is not is diverse in regard to sexual orientation. NPR reported that Michael Sam became the first publicly gay player to play in the NFL when he was drafted to the St. Louis Rams in 2014 (even if he only technically played during the preseason). Other athletes, like former Dallas Cowboys defensive lineman Ryan Russell and former Cowboys linebacker Jeff Rohrer, came out following their tenure in the NFL, per OutSports. Additionally, the first player to ever come out as gay after retirement only did so as recently as 1975; since then, only 15 players have followed suit during the league's 100-year history (via OutSports).
These low numbers are a mere drop in the bucket when it comes to total NFL players, and underscore the stigma which still surrounds gay football players in 2021. With that said, things might be changing thanks to a major announcement from Oakland Raiders defensive end Carl Nassib. So, what did Nassib have to say that's shaking up the league?
Carl Nassib is a trailblazer in the NFL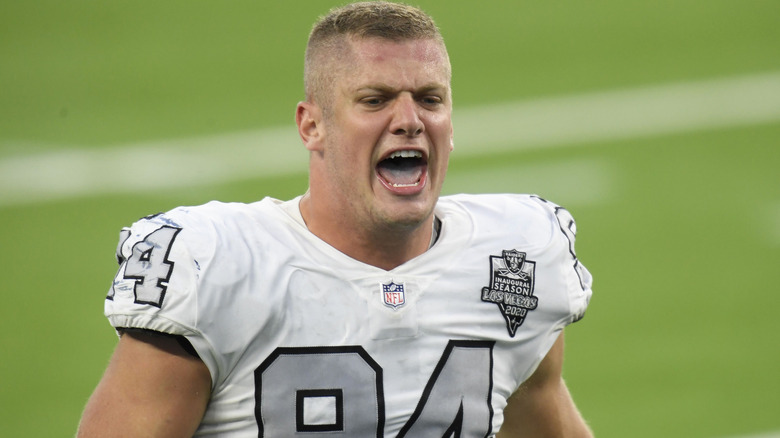 Harry How/Getty Images
On June 21, five-year NFL veteran Carl Nassib came out in a personal Instagram post, making him the first openly gay active player in the league to play during a current NFL season (via USA Today). Explaining that he had "agonized over this moment for the last 15 years," Nassib told fans that he was gay. "I've been meaning to do this for a while now but I finally feel comfortable enough to get it off my chest," he explained. "I'm a pretty private person, so I hope you guys know I'm not doing this for attention, but I think representation matters."
Nassib also took a moment to acknowledge those who have "paved the way for him" and concluded by announcing that he would be donating $100,000 to the Trevor Project, which he praised as "the No. 1 suicide prevention service for LGBTQ youth in America." His revelation comes as a fitting tribute to Pride Month, and was met by an overwhelming wave of support from across the NFL. 
Not only did Nassib's team honor him in a Twitter post, but NFL Commissioner Roger Goodell also released a statement in which he applauded the defensive end for "courageously sharing his truth" (via the Los Angeles Times). Adding that "representation matters," Goodell articulated his hope that "statements like his will no longer be newsworthy as we march toward full equality for the LGBTQ+ community."