What Really Happened Between Matthew Perry And Sarah Paulson?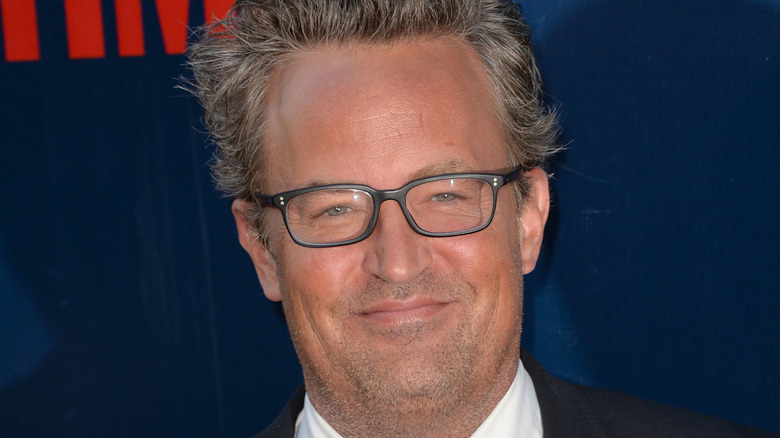 Shutterstock
Matthew Perry and Sarah Paulson both starred in the short-lived Aaron Sorkin-created ensemble show "Studio 60 on the Sunset Strip" which was anointed by critics before its release in 2006. "Studio 60" gave a behind-the-scenes look at the production of a fictional sketch show, and came at a tenuous time in both actors' careers.
The show came out only a couple of years after "Friends" had ended, and Perry was eager to distance himself from the character he portrayed on the beloved sitcom. "I didn't want to play Chandler anymore," he told BuzzFeed in 2015 when reflecting on that time. "I wanted to do some things that changed it up a little bit." The show only lasted one season, but it left an imprint on Perry. "I was really proud of being part of that, because that pilot was just as good as anything I've seen on television," he told USA Today in 2013. Perry revealed to BuzzFeed that he even contemplated retiring from acting after the Sorkin-created drama was canceled. 
Meanwhile, Paulson was just establishing herself in Hollywood and thought "Studio 60" could be her big break. "It was the hottest thing in town ... [Sorkin's] coming off the success of 'The West Wing,' Matthew Perry coming off 'Friends,'" she recalled to Collider in 2020. Onscreen, Perry and Paulson played romantic interests but the duo had developed a bit of history prior to working together on "Studio 60".
Perry and Paulson shared an awkward encounter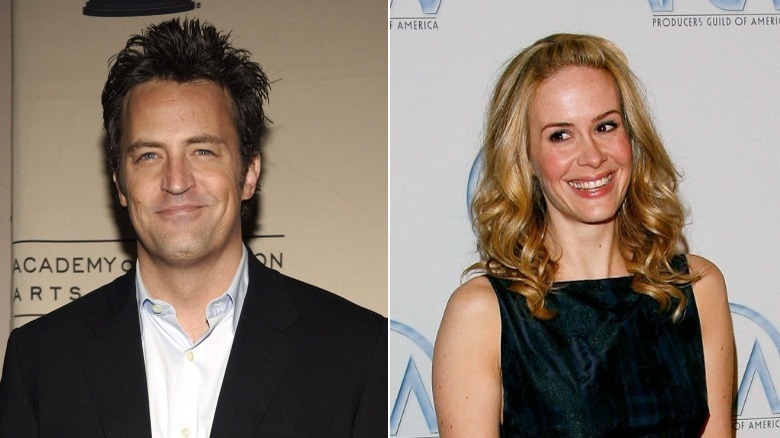 John M. Heller, Mark Davis/Getty Images
During a June 22 appearance on "Jimmy Kimmel Live!" Sarah Paulson recalled a particularly awkward encounter she had with Matthew Perry at a "make out party." This memorable night unfolded early in Paulson's career.
Paulson had arrived solo to a party at a Hollywood executive's house where she befriended Carrie Fisher, who was also alone. Afterward, Fisher surprised Paulson by inviting her to another party which the "American Horror Story" star described as a make-out party at Gore Vidal's home. "I didn't see anyone make out, but there was a hat with names in it and you were supposed to make out with whomever you pulled out of the hat," she recalled to Kimmel (via People). "And Matthew Perry pulled my name out of the hat and then promptly left the room."
The actor saw that Perry had her name and suggested they smooch. "And I was like, 'Uh, well, let's kiss.' And he was like, 'No,'" Paulson said. She did defend Perry's behavior, but mentioned that the two were not strangers at the time and had a mutual friend. "So it was awkward," she told Kimmel. What made the cringe-worthy exchange even more memorable was that the two actors would go on to play on-screen love interests. "But then we ended up playing romantic partners years later on a show called 'Studio 60,' and I got my kiss," Paulson said, joking that Perry wound up regretting missing out on the kiss at the party.