Inside Conan O'Brien's Marriage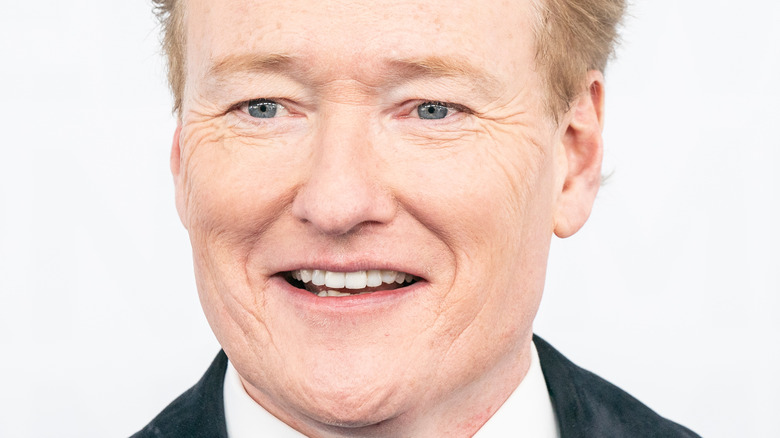 Shutterstock
If you've ever been a media-obsessed teenager it's more than likely you've fantasized about marrying a celebrity. The problem with this fantasy is, of course, that most celebrities hang out with other celebrities. How are you, a perfectly normal person, supposed to even be in the same room with one of them? Though the chances of your own "Nottinghill"-esque meet-cute might sound slim, it happens more than you'd think.
Believe it or not, there are dozens of celebrities who married perfectly normal average Joes. Don't believe us? Just ask Matt Damon, Anne Hathaway, or Reese Witherspoon. It might surprise you to learn that everyone's favorite talk show host, Conan O'Brien, also falls on the list of celebs who fell for non-celebs. O'Brien met his wife in 2000, and apparently, it was love at first sight. They were married two years later, and these days, they're living out their happily ever after with their two kids, Neve and Beckett, per People.
Here's what we know about O'Brien's wife, Liza Powel, how they met, and what their relationship is like today. 
Liza Powel can keep up with Conan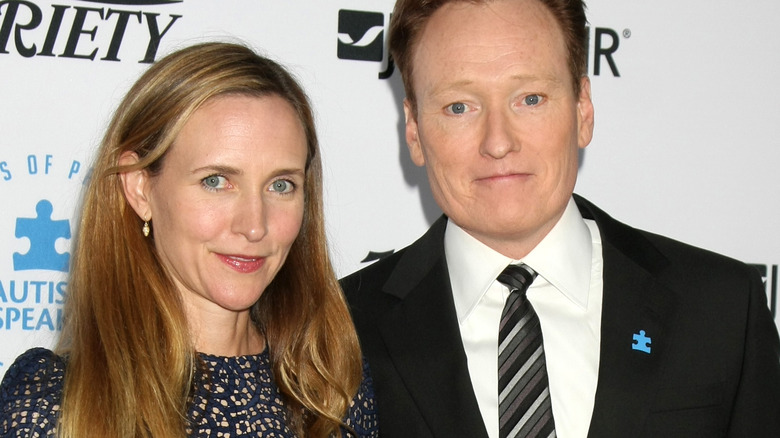 Shutterstock
Conan O'Brien and his wife, Liza Powel, may never have met if not for his show — they met while taping it! According to O'Brien, it was love at first sight. "Somewhere, in the vault at NBC, there's footage of me literally falling for my wife on camera," O'Brien explained on "Piers Morgan Tonight" in 2012 (via HuffPost). O'Brien went on to add that he was already a believer in love at first sight.
The fact that Powel is "incredibly beautiful" first caught the late-night host's attention, but beauty isn't everything. Even though it might make a first impression,  what made him stay was her brain... that and she's pretty funny. Or, as O'Brien said, "very intelligent, and funny, and a really good person." Aww, what a sweetie.
In fact, O'Brien claims to be pretty romantic when it comes to the love of his life. However, that romance is buried under "layers and layers" of "repression and ham." "It's a Slim Jim of romance," he quipped. No matter how long it actually takes for O'Brien's romantic side to come out, we can't get enough of this meet-cute story. We love that the late-night host found someone just as funny and intelligent as himself, who gives him all the feels.