The Message You Forgot Queen Elizabeth Sent To The Moon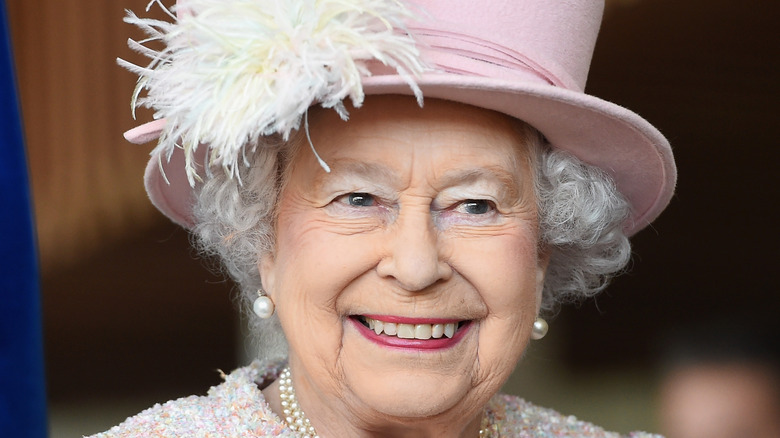 Stuart C. Wilson/Getty Images
Queen Elizabeth II doesn't have the smoothest of histories with NASA's Apollo 11 mission to the moon. Per the UK's Express, following their historic accomplishment in 1969, astronauts Neil Armstrong, Buzz Aldrin, and Michael Collins met Her Majesty at Buckingham Palace on October 14 as part of a global tour. Accompanied by their wives, as well as NASA officials and the State Department, the triumphant trio greeted and shook hands with Elizabeth and her husband, the late Prince Philip. 
However, Armstrong, suffering from a cold after four stops on the tour, sneezed on the monarch, historians Francis French and Colin Burgess recalled. "He thought about cancelling a visit to Buckingham Palace to load up on cold medicine and sleep," the two wrote in their book "Into That Silent Sea." But Armstrong's wife told him, "If I had to be embalmed, we were going to see the palace," as the astronaut recalled. Luckily, Elizabeth made light of the incident, per the two historians, raising her hands in faux shock and even inquired after his health weeks later to an acquaintance. As Aldrin would later tweet in 2016, Armstrong was not the only one plagued by an embarrassing moment that day, writing, "Mike Collins almost fell down the stairs trying not to turn his back on Queen Elizabeth II." 
The queen likely didn't take the astronauts' innocent blunders to heart. Elizabeth did, however, reportedly take issue with a message she sent to the moon with them. Keep reading to find out why!
Queen Elizabeth II called her message on the moon a 'gimmick'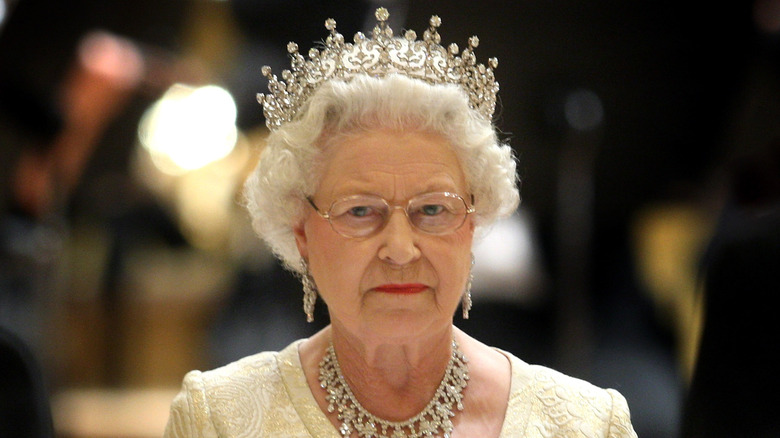 Chris Jackson/Getty Images
Queen Elizabeth II, according to The Guardian, sent a message to be planted on Great Britain's behalf on the lunar surface by Apollo 11 astronauts Neil Armstrong, Buzz Aldrin, and Michael Collins — but she wasn't thrilled by the idea. Invited by NASA, Elizabeth obligingly penned (or approved) the message: "On behalf of the British people, I salute the skills and courage which have brought man to the moon. May this endeavour increase the knowledge and well-bring of mankind." Said message was carried via small disk like those of 73 other heads of state worldwide.
According to Elizabeth's then-private secretary, Michael Adeane, the queen had qualms with the gesture's artifice. "Her Majesty agrees that this idea is a gimmick and it is not the sort of thing she much enjoys doing but she certainly would not wish to appear churlish by refusing an invitation which is so obviously well intentioned," Adeane wrote on official record, per The Guardian.
On a personal level, however, the queen was reportedly enthralled by the historic NASA mission. As historians Francis French and Colin Burgess recalled (via Express) in their book "Into That Silent Sea," the three astronauts found Elizabeth to be "well informed and interested in the American Moon programme" during their post-mission October 1969 meeting with the monarch.