Who Helped Set Up Donald Trump Jr. And His Ex-Wife Vanessa?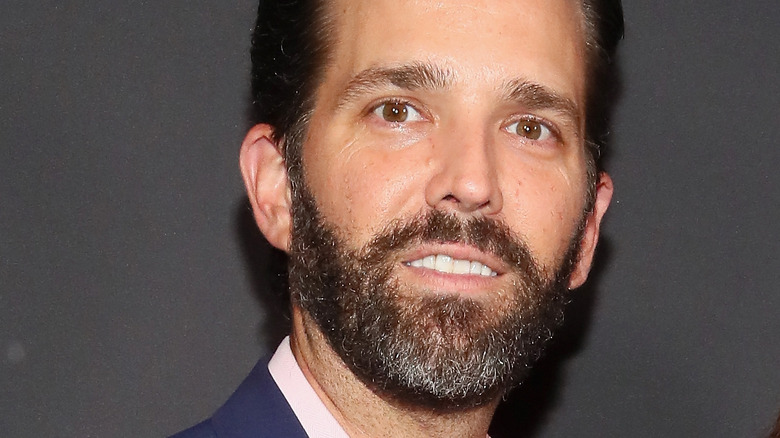 Astrid Stawiarz/Getty Images
Former President Donald Trump's eldest son, Donald Trump Jr., started dating former "Fox News" host Kimberly Guilfoyle in 2018. Prior to that, he was married to Vanessa Haydon Trump. Vanessa grew up in an Upper East Side townhouse in New York City, detailed The New York Times. She attended Manhattan's exclusive Dwight School and modeled during her childhood. Town and Country noted she also attended Manhattan's Marymount College and studied psychology.
Vanessa generated buzz after "nuzzling" with Leonardo DiCaprio at a premiere party years ago (via New York Magazine). As a teen, Vanessa reportedly dated Latin Kings gang member Valentin Rivera for five years. Then, from 1998 to 2001, Vanessa was tied to Prince Khalid bin Bandar bin Sultan Al Saud. They apparently lived together and "were planning to marry," but "he ditched her on 9/11 [and] days later, he flew back to Saudi Arabia," a source told Page Six.
Don Jr. also grew up in NYC. However, as New York Magazine noted, his early years weren't necessarily idyllic. He spent a lot of time with nannies and his grandparents, often traveling to Prague to see them. He was 12 when his parents split and his grandfather died soon after. He attended boarding school in Pennsylvania and the University of Pennsylvania after that. "I used to drink a lot and party pretty hard, and it wasn't something I was particularly good at," he admitted.
Clearly, Don Jr. and Vanessa were cut from a similar cloth. Here's how they met.
They awkwardly met via Donald Trump at a fashion show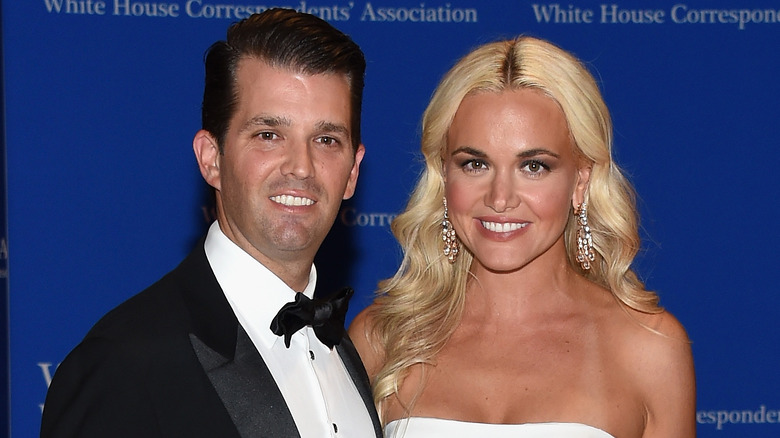 Larry Busacca/Getty Images
In 2003, Donald Trump Jr. and Vanessa Haydon met at a fashion show, noted The New York Times. It just so happens that his father, Donald Trump, initiated the introduction. "Donald Trump comes up to me with his son; 'Hi, I'm Donald Trump. I wanted to introduce you to my son Donald Trump Jr.," Vanessa recalled, per NYT. An awkward, short conversation followed, and soon after, Trump Sr. noticed Vanessa again. "Donald comes back up to me again, 'I don't think you've met my son Donald Trump Jr.'" he said to her. Vanessa replied, "Yeah, we just met, five minutes ago."
Nothing came of those brief introductions, but Don Jr. and Vanessa ran into each other again six weeks later. A mutual friend introduced them and they talked for an hour before realizing they'd previously met. In November 2004, he proposed in front of cameras at the Bailey, Banks & Biddle jewelry store in New Jersey's Short Hills Mall, detailed the New York Post. The engagement ring was estimated to be worth $100,000, although he reportedly got it for free in exchange for promoting the store (classic!). 
The couple married in November 2005 at Mar-a-Lago in Palm Beach, Fla., and announced their first pregnancy just after their first anniversary. During their 12-year marriage, the couple welcomed five children: Donald III, Kai Madison, Tristan Milos, Chloe Sophia, and Spencer Frederick. They called it quits in March 2018 and came to a divorce agreement just months later.