The 'Inappropriate' Joke That Has Joy Behar Catching Heat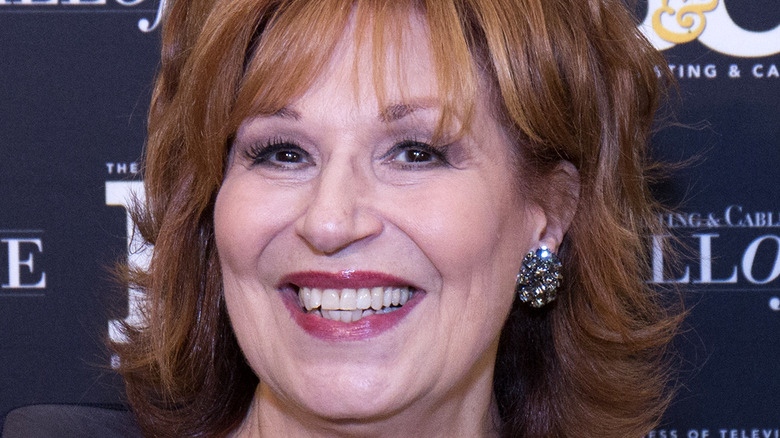 Santiago Felipe/Getty Images
Joy Behar may not be kicking footballs on an NFL field, but a comment made on the June 22 episode of "The View" saw the co-host penalized. Top of the agenda for the ABC News daytime show was Las Vegas Raiders defensive end Carl Nassib's decision to publicly come out, making him the first active NFL player to do so.
Nassib made NFL history by coming out during an Instagram video on June 21 in honor of Pride Month. Filmed at his home in Westchester, Penn., the 28-year-old candidly began by saying: "I just want to take a quick moment to say that I'm gay. I've been meaning to do this for a while now, but I finally feel comfortable enough to get it off my chest. I really have the best life, I got the best family, friends, and job a guy could ask for." Describing himself as a "pretty private person," Nassib told fans he wasn't sharing the news for attention. "I actually hope that one day, videos like this and the whole coming-out process are just not necessary, but until then, I'm gonna do my best and do my part to cultivate a culture that's accepting and compassionate," he said. 
But despite the Las Vegas Raiders' defensive end explaining the importance of "representation and visibility," Behar questioned why it was "such a big deal." "I know he's the first active NFL player ever to come as gay, but come on, it's 2021, is this such a big deal?" While her co-hosts lauded Nassib's bravery, Behar kept pushing her point — even to the point of providing some crude commentary.
Joy Behar retracted her comment live after realizing it 'wasn't made for daytime television'
Joy Behar used a bit of foul language when she slid in some sexual innuendo during her live discussion of Carl Nassib's coming out. Behar began to explain that as other athletes had previously done so, the Las Vegas Raiders defensive' didn't need to make a "big" announcement. "The View" co-hosts Ana Navarro argued that it was "about being seen and accepted" and Meghan McCain called his timely announcement "fantastic," but Behar brushed off comments by joking about her lack of interest in the NFL.
"Ana, after they said 'penetration in the End Zone,' they lost me," Behar said, before admitting to Navarro she "may even watch a football game every now and then." The joke was met with awkward and stilted laughter from her co-hosts with Navarro even blocking her ears. However, McCain looked visibly unimpressed with Behar's pun. The Republican daughter of the late Sen. John McCain has long been open about her pro-gay marriage views, even tweeting in 2012 anyone of the contrary is "close-minded," per Daily News. 
As the "The View" co-hosts continued in support of Nassib, Behar began to backtrack by telling viewers to "make believe" they ever heard it. "I just long for the day when you can just be gay in the world and it doesn't become a big deal. By the way, that inappropriate joke I made for daytime television, scratch it. Make believe I never said it." Despite Behar's retraction, those on social media slammed the comedian for being "homophobic."
Social media users told Joy Behar to 'get a clue' as 'gay jokes are never funny'
Joy Behar may want to think a little more before speaking, as Twitter users got riled up, despite her apology. Journalist Jon Nicosia tweeted, "Of all the progress gay men have made since I came out. Our lives are still defined by anal sex 'jokes.'" While another said, "Time for someone to resign. Gay jokes were NEVER funny. Get a clue. #notfunny #Pride2021." Some people went so far as to say Behar was "homophobic," however, a handful of gay Twitter users defended Behar from "cancel" culture and, in fact, thought her joke was "funny." 
"I would like to thank everyone for being outraged on my behalf as a gay man. That said, lighten up. It was funny and I can handle it myself!" one user said. Another wrote, "im gay and this didn't offend me at all i thought it was corny but funny. people need to stop getting so offended over things." Stand-up comedian Brad Loekle explained that while Behar's joke was "hacky," the LGBTQ+ community is more concerned about their "safety": "We're not scared of a mediocre joke from a long standing ally. We're worried about our physical/ Housing/ Job/ Legal SAFETY."
During Carl Nassib's Instagram announcement, the NFL player also shared he would be donating $100,000 to The Trevor Project — "the world's largest suicide prevention and crisis intervention organization" for LGBTQ+ youth. "I'm very excited to be a part of it, to help in any way I can. I'm really pumped to see what the future holds," he concluded.