The Truth Behind Roger Federer And Rafael Nadal's Rivalry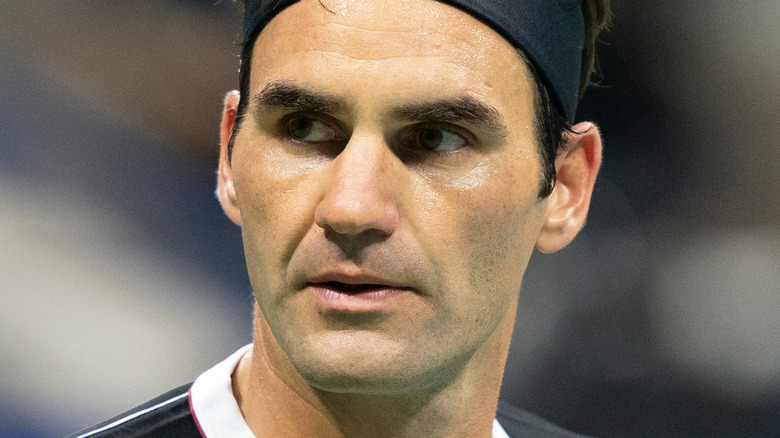 Shutterstock
The rivalry between Roger Federer and Rafael Nadal has been dubbed the "Fedal" matchup, and is arguably the greatest rivalry in the history of tennis. It dates back to 2004 when a then-17-year-old Nadal shocked the No.1-ranked Federer at the Miami Open, per Tennis Majors.
Between 2006 and 2008, their head-to-head battle heated up as they faced each other in the finals of both the French Open and Wimbledon each of those years, per ATP Tour. In 2008, Federer noted how "special" their rivalry was becoming. "So when I play against him, it is not like I was playing [Andre] Agassi, [Pete] Sampras, but it definitely becomes more and more special the more times we play against each other," per The Globe and Mail. Nadal began to dominate his older rival as he went 15-4 in their matches from 2008 until 2014, per Tennis Majors. Although the Spaniard still deferred to his Swiss counterpart. "If somebody says I am better than Roger, I think this person don't know nothing about tennis," Nadal told The New York Times in 2010.
After making tweaks to his game — most notably his backhand — Federer rebounded and has gone 6-1 versus Nadal since 2015, per Tennis Majors. The duo has faced off 40 times, with Nadal taking a 24-16 edge overall and going 10-4 during their Grand Slam matchups, via ATP Tour. But the numbers only tell part of the story, as their relationship has evolved over the years ...
Are the two competitors friends?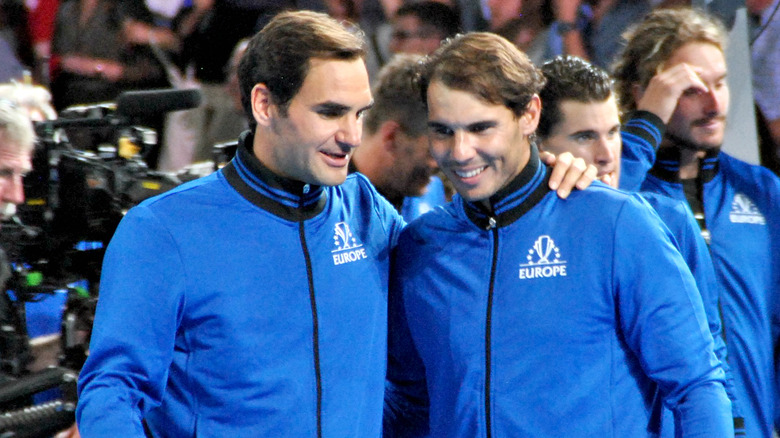 Shutterstock
By 2014, Roger Federer revealed that he and Rafael Nadal had bonded over dinners, and even grew to know each other's families. "Our bond is stronger than the one I may have with Novak Djokovic or Andy Murray. That's why I feel the most connected and closer to Rafa," he told GQ Australia (via Bleacher Report). 
In 2016, Federer was on hand for the ceremonial opening of the Rafael Nadal Academy in the tennis star's hometown of Mallorca, Spain. The Swiss pro used the opportunity to heap praise on his greatest rival. "I've seen a lot of hard workers and inspiring players, but you've been the one in my opinion who has been the most inspiring and most influential and made me the player I am today," Federer said, per ATP Tour.
Over time, the relationship between the two tennis legends has evolved. While speaking at the 2020 French Open, Nadal admitted how important their rivalry was to the sport. "You know, of course maybe Roger and I, we created something special with our rivalry. And that goes over the tennis world," he said, per Essentially Sports. The competitors clearly respect eachother, but their relationship stayed short of becoming close. "[T]he truth is we're not close friends," Nadal said during a Zoom interview with Santander Brasil (via Tennis Now). "[But] it is true that we can call [each other] at any time and discuss almost any subject," Nadal added.
In other words, game recognize game!