Inside Nicole Franzel And Victor Arroyo's Relationship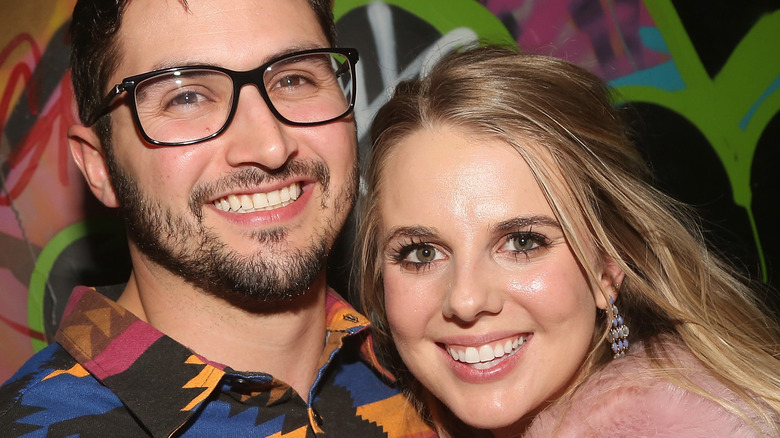 Bruce Glikas/Getty Images
Nicole Franzel has become a well-known veteran of the "Big Brother" franchise. She first appeared in Season 16, which aired throughout the summer of 2014. She didn't win that season, but she was brought back two years later for Season 18. Not only did she win, but she also met Victor Arroyo. The friendly summertime dynamic they formed later turned out to be a life-changing connection.
During Season 16 of "Big Brother," Nicole fell for fellow houseguest Hayden Voss. The unlikely pair stuck together all season and dated for nearly two years in the real world. When Nicole returned to "Big Brother" for Season 18 in 2016, viewers were caught off-guard by the realization she and Hayden were no longer together. Nicole clicked with fellow houseguest Corey Brooks at the time, although she developed friendships with Victor and others.
Nicole won Season 18, and she continued her romance with Corey for a while outside of the house. However, that relationship fizzled a few months later. She remained in her small Michigan town of Ubly, and at the time, told MLive she planned to go back into nursing. A few months later, in the fall of 2017, she traveled to New York for the premiere of "Big Brother" Season 19. During that trip, her life took a major turn.
A 'Big Brother' friendship becomes much more
When Victor Arroyo and Nicole Franzel were in New York, according to Victor's perspective, "Everything came together ... and we just clicked. From then on, it was, I guess it was a love story, and now she's my girlfriend"  (per ET Online). At the time, Nicole lived in Michigan and Victor was in Louisiana. They kept things quiet at first, revealing their romance months later with an Instagram post showing them kissing. Soon after, he was ready to move to Michigan.
During a September 2018 visit to the "Big Brother" house, Victor proposed (per Us Weekly), and just before that, they filmed "The Amazing Race." Victor told ET Online, "We knew going into it that it could be make it or break it ... it was scary making that decision." Luckily, "The Amazing Race" experience "100 percent solidified it," he detailed. They aimed for a June 2020 wedding, but they hit some obstacles.
In November 2020, Nicole shared they were "postponing our wedding for the third time," due to COVID-19. In January 2021, they revealed they were expecting their first baby, and in March, they wed in Florida. "This day could not have been more perfect," they shared. "We are so happy with how everything came together and are excited for our next chapter." They've shared they're expecting a boy who will be named Victor Arroyo IV, and they'll call him "Arrow."
"Big Brother" fans have loved watching Nicole and Victor's love story unfold and cannot wait to see more.