Brie Larson Refused To Applaud Casey Affleck At The 2017 Oscars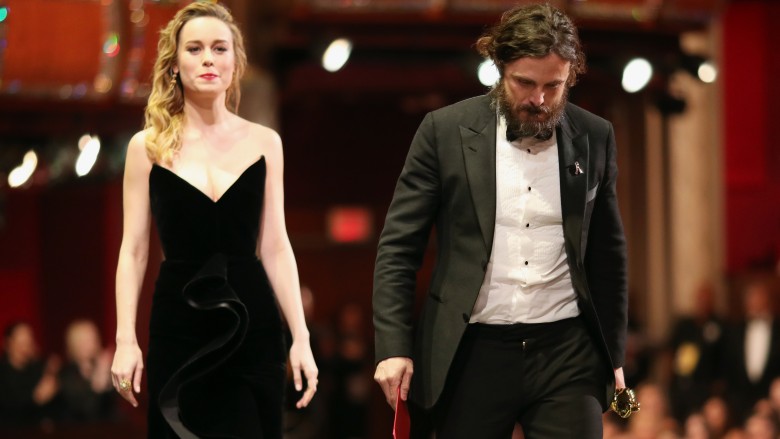 Getty Images
Brie Larson made a quiet statement about Casey Affleck at the Academy Awards on Sunday, Feb. 26, 2017.
Larson, 27, presented Affleck, 41, with his Best Actor Oscar for his performance in Manchester By The Sea (2016), and eagle-eyed viewers noticed that Larson didn't applaud him at all.
Rumor has it that Larson is uncomfortable with the recognition Affleck has been receiving in light of the sexual harassment claims made against him.
In 2010, two women sued Affleck for alleged sexual harassment and assault. Cinematographer Magdalena Gorka, who worked with Affleck on I'm Still Here: The Lost Year Of Joaquin Phoenix (2010), claimed that Affleck harassed her throughout filming and threatened to not pay or credit her for her work on the project when his alleged abuse drove her to quit. His misdeeds include allegedly stumbling into a bed Gorka slept in while drunk and touching her inappropriately while she slept. A separate suit from another worker on the film, Amanda White, claims that Affleck's actions—which allegedly included ordering a crew member to expose himself to her, using her bedroom to have sex with women (while he was still married to Summer Phoenix, by the way), and sending her profane text messages when she refused to share a hotel room with him—drove her to leave the project as well.
Larson won the Best Actress Oscar in 2016 for her performance as a rape survivor in Room (2015), and since then she's been an advocate for sexual assault survivors, even hugging every single one who stood onstage at last year's Oscars during Lady Gaga's performance of "'Til It Happens To You."
The Captain Marvel (2019) star also had to present Affleck with his Golden Globe for the same performance this year, and she was visibly nonplussed about it. Before the SAG Awards in January 2017, a source told Page Six that Larson had felt conflicted about presenting trophies to Affleck. "Brie feels really guilty about the situation [of handing Affleck awards]," the insider said. "She's not going to call him out, but she [thought] about saying something about sexual assault at the SAG Awards. There [were] discussions with anti-sexual-assault groups she has ties to."
Though Larson didn't make a verbal statement, her silence spoke volumes. For his part, Affleck has denied the allegations and settled the lawsuits out of court. He told Variety in 2016 of the accusations, "People say whatever they want. Sometimes it doesn't matter how you respond...I guess people think if you're well-known, it's perfectly fine to say anything you want. I don't know why that is. But it shouldn't be, because everybody has families and lives."