Inside Renee Zellweger's Relationship History
Shutterstock
Two-time Oscar-winning actor Renée Zellweger's love life is heating up. She recently met "Wheeler Dealers" star Ant Anstead while filming an episode of the upcoming Discovery+ show "Celebrity IOU Joyride," and sparks apparently flew between them – but we'll get to that in a bit. 
Zellweger has been acting since her first credit in 1992 on a TV movie called "A Taste For Killing," per IMDb. In 1993, she had a part in "Dazed and Confused." By 1995, she was appearing in higher-profile feature films like "Empire Records." Her breakthrough role was in 1996's "Jerry Maguire." From there she was off and running. She won her first Oscar for her supporting role in  2003's "Cold Mountain." She won her second Oscar, for Best Actress, for her performance as Judy Garland in "Judy" in 2020. 
Over the years, Zellweger has dated a number of high-profile actors and musicians. She's never been one to flaunt her relationship in the public eye or court needless publicity, so not everyone is aware, for instance, that she once dated Oscar-nominated actor Bradley Cooper and White Stripes and The Raconteurs rocker Jack White (per People). So with this recent news of her new romance with Anstead, let's take a stroll through Zellweger's past relationships. 
Renée Zellweger and Kenny Chesney were married for four months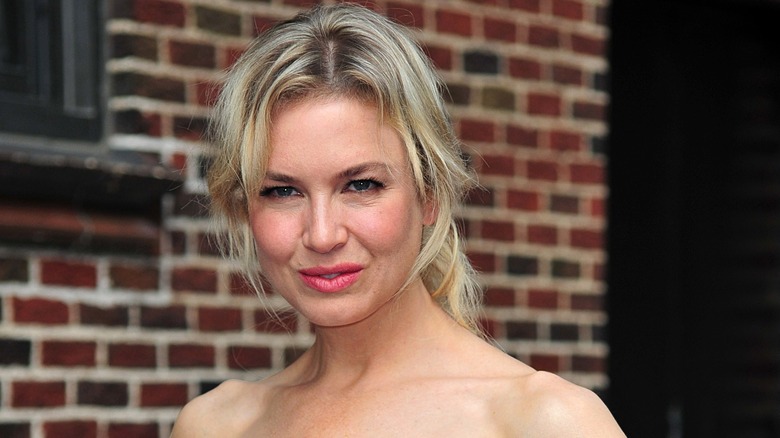 Shutterstock
Renée Zellweger apparently has a thing for musicians! She and country music star Kenny Chesney met in January 2005 at the NBC "Concert for Hope" for Tsunami relief. It turns out, they were each other's celebrity crush (per Wide Open Country), and their relationship took off fast. The couple shocked fans when they got married on a beach in the U.S. Virgin Islands just five months later. Four months later, Zellweger filed to have the marriage annulled, citing "fraud" as the reason. They have never revealed what that means.
Zellweger met the White Stripes' Jack White on the set of 2003's "Cold Mountain." They dated for a bit more than a year and a half, per People. Before that, Zellweger and Jim Carrey met on the set of 2000's "Me, Myself, and Irene" and dated for about a year. Twenty years later, in an interview with Howard Stern on SiriusXM, Carrey called Zellweger "the last great love of my life" and said he shouldn't have let her get away. 
Finally, Zellweger dated musician Sims Ellison for about five years in the early '90s while living in Austin, Texas after college, per the Daily Mail. She moved to Los Angeles to pursue acting. Ellison, who had depression, later died by suicide, and Zellweger gave a eulogy at his memorial service. Sims' mother said to the Daily Mail, "It was clear that he loved her a lot. Renée was his favorite girlfriend."
Renée Zellweger dated Doyle Bramhall II for seven years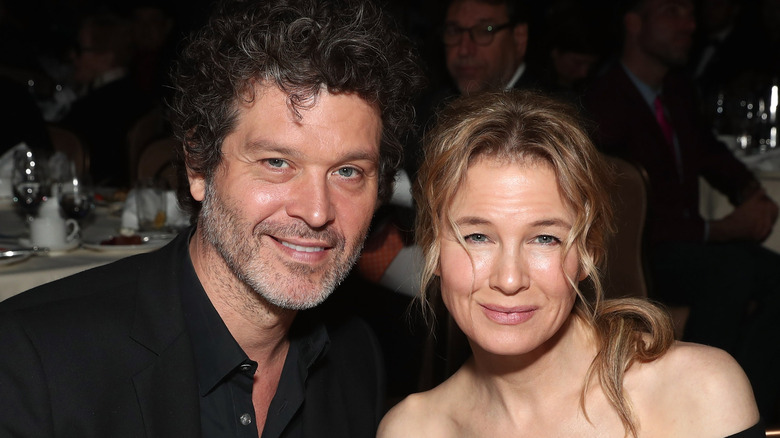 Todd Williamson/Getty Images
Before rumors began circulating that Renée Zellweger is dating "Wheeler Dealers" star Ant Anstead, the actor dated musician Doyle Bramhall II from 2012 to 2019. It's her longest relationship, and he's one of the people she's known the longest — they met when they were college students in the late 1980s. In 2015, Zellweger said, "Isn't he cute? He's a very sweet man. I'm very, very happy right now," (via ABC). In 2017, five years into her relationship with Bramhall, she told Us Weekly, "He's a very special person." Bramhall is best known for his work with Eric Clapton, per his official website.
Prior to her relationship with Bramhall, Zellweger and Bradley Cooper met on the set of their 2006 film "Case 39." They started dating three years later in 2009, per The Sun.  They broke up in 2011 and never publicly acknowledged their relationship, per HuffPost. Cooper had high praise for Zellweger and her acting skills, telling Entertainment Tonight (via Digital Spy), "I can't say enough about her. I just love her. I [loved] coming to work. I love acting with her. I can learn so much from her."
Now, the reported romance between Zellweger and Anstead is on fans' minds. Anstead and "Flip or Flop" star Christina Haack filed for divorce in November 2020, and it looks like he's ready to move on. He and Zellweger just met, but we'll be keeping an eye on any relationship developments!