The Truth About Simona Halep's Boyfriend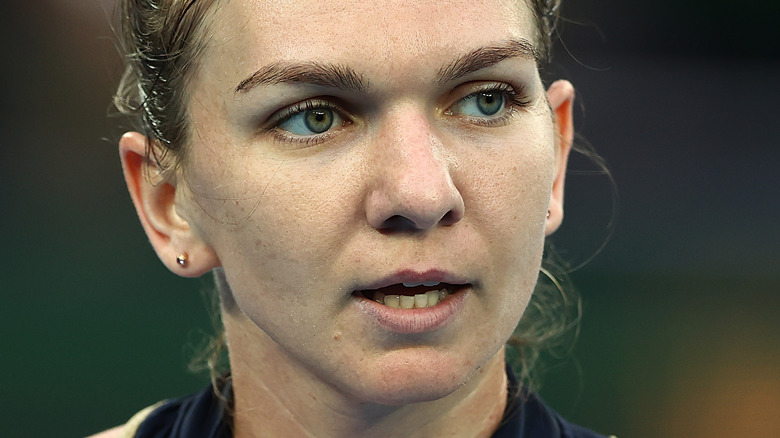 Matt King/Getty Images
Just like Rafael Nadal and Naomi Osaka, Simona Halep sent shockwaves through the sports world when she announced that she's withdrawing from Wimbledon this year. The tennis star's decision comes after injuring her calf during a match against Angelique Kerber in May, per ESPN. This is the second year in a row she'll be unable to defend her title after winning Wimbledon in 2019. (The event was cancelled in 2020 due to COVID-19.)
"It is with great sadness that I'm announcing my withdrawal from The Championships as my calf injury has not fully recovered," Halep wrote on Instagram. "I gave it everything I had in order to be ready to play Wimbledon and after having such special memories from two years ago, I was excited and honored to step back on these beautiful courts as defending champion." She added, "Unfortunately, my body didn't cooperate and I'll have to save that feeling for next year."
During her break, Halep will likely tend to her injury so she can make a quick recovery, as well as (assumingly) spend time with her loved ones, which includes her boyfriend. Scroll ahead to find out the truth about Toni Iuruc, including his lucrative career in Romania. 
Toni Iuruc is a very rich businessman
Simona Halep first introduced the new man in her life on Christmas 2019 when she shared a photo of Toni Iuruc via Instagram. The caption simply read, "I wish you a Merry Christmas with your loved ones!" in Romanian and see the happy couple smiling and embracing. She followed that post up with two others in the weeks to come, but since then, she's kept her relationship away from the spotlight. 
In an interview with TVR1, the tennis star explained (per Essentially Sports): "We have a normal relationship, I feel very well. But I would like it to stay personal. I belong to Romania when it's about tennis. Love and tennis can coincide, but I think personal life is the most important one."
According to multiple websites, Halep's boyfriend is also very rich. Iuruc is reportedly a successful businessman worth millions who owns a lot of companies in Romania. He's also reportedly been married twice — the first time to a model named Arina and the second to a woman named Liana. There have been rumors that Iuruc plans to propose to Halep; however, she's denied it on Facebook. "Contrary to reports in the Romanian media, I wanted to confirm that I am neither engaged nor is the wedding date set," she wrote. "I will be sure to share any happy news with you about a future engagement!"