The Reason Kanye West Is Suing Walmart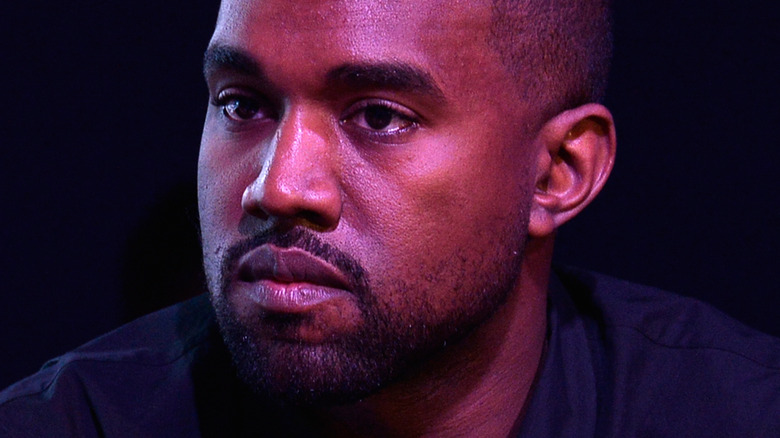 Frazer Harrison/Getty Images
Kanye West and Walmart may be taking their feud to court soon. As you may recall, the giant retailer's "beef" with Kanye West first began in April. It was then that Walmart called out Kanye over his new YEEZY logo, which featured eight dotted lines resembling the sun's rays. And, according to Walmart, the logo looks way too similar to its own. The brand went as far as filing a notice of opposition, citing that the YEEZY logo could be causing confusion amongst consumers. 
Per Fox News, Kanye filed for the trademark in January 2021, while Walmart's logo was approved by the U.S. Patent and Trademark Office in 2008. According to legal documents obtained by the same publication, the retailer reached out to Kanye via post several times (in July 2020, August 2020, January 2021, and February 2021) and even jumped on a conference call in April. "However, to date, we have not received any conclusive information from Yeezy regarding the planned use or any cooperation from Yeezy in order to find common ground," Walmart's letter reads. 
Although Kanye has yet to address the logo controversy, he has recently taken things up a notch by officially suing Walmart. Find out more about the new lawsuit below.
Walmart sold shoes almost identical to Kanye's YEEZY Foam RNR
As reported by TMZ, Walmart sold shoes that allegedly ripped off Kanye West's YEEZY designs. In particular, the retailer's website featured a pair of foam shoes that looked almost identical to YEEZY's Foam RNR model. The only big difference is the price tag — Kanye's retail for $80, while Walmart's version ranged anywhere from $20 and $30. Sneaker fans quickly noticed, too, and some even went as far as buying Walmart's alleged knockoffs and doing side-by-side comparisons with Kanye's model. The mogul eventually noticed, too, as he reportedly filed a lawsuit against the brand. Via documents obtained by TMZ, Kanye alleges that Walmart copied his designs, adding that it has "left customers confused" on whether they were buying the real thing or not.
At the time of writing, Walmart seems to have pulled said items from its website, with links taking customers to the following error message: "Oops! This item is unavailable or on backorder." It's also worth noting that, although the shoes in question could be purchased on Walmart.com, they were not sold by the retailer itself.
"The product referenced in the complaint is not sold by Walmart, but rather by third party Marketplace sellers," Walmart told TMZ via a statement. "We take allegations like this seriously and are reviewing the claim. We will respond in court as appropriate after we have been served with the complaint." Stay tuned for updates!