Here's What Lil Kim Wants To Do With Nicki Minaj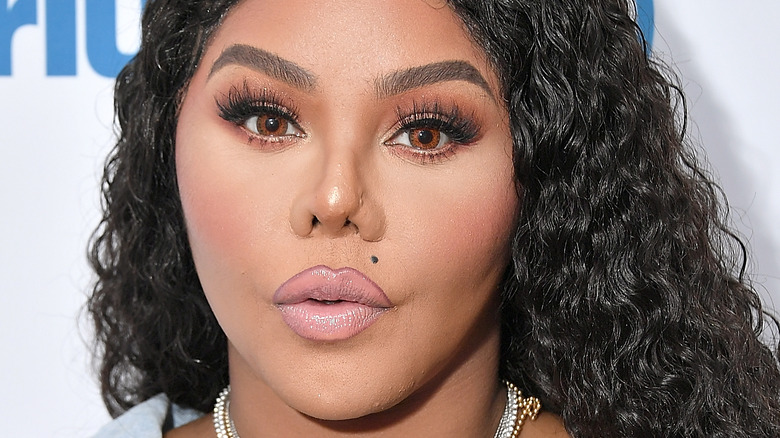 Michael Loccisano/Getty Images
On June 27, the 2021 BET Awards saw incredible performances by stars like Cardi B (who made a surprise pregnancy announcement), Megan Thee Stallion, and Lil Nas X, as well as legends such as Lil Kim. The latter, in particular, performed in honor of Queen Latifah's Lifetime Achievement Award.
To celebrate her colleague's award, Lil Kim took the stage alongside Monie Love, Rapsody, and MC Lyte to perform a medley of Latifah's most popular songs. For the special performance, Kim wore an all-white Prada outfit, consisting of a criss-cross halter top, mini skirt featuring a pouch bag, and chunky hiking boots. The rapper seems to be loving the Italian fashion label, as her blonde bangs even sported Prada's familiar triangle-shaped logo (via Allure).
Despite her eye-catching outfit, it's what Lil Kim said on the 2021 BET Awards red carpet that has everyone talking. While chatting with DJ Envy, Kim revealed what she would like to do with her former nemesis, Nicki Minaj. Read more below.
Lil Kim is ready to battle Nicki Minaj on Verzuz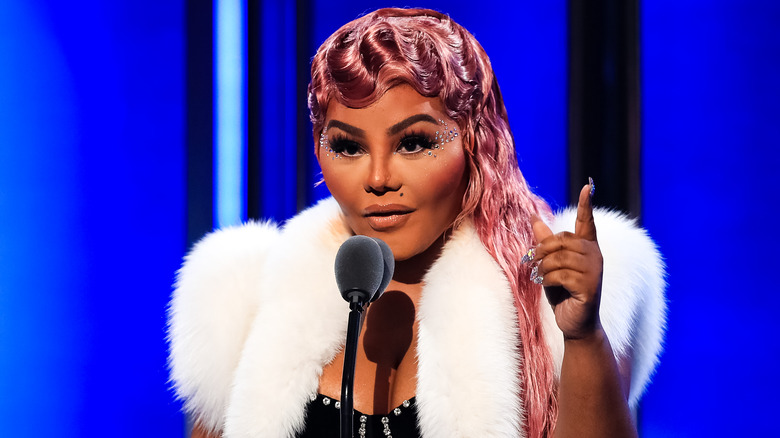 Carmen Mandato/Getty Images
While gracing the red carpet at the 2021 BET Awards on June 27, Lil Kim stopped by for a quick chat with DJ Envy. As the night prior saw Soulja Boy taking on Bow Wow via a "Verzuz" battle, Envy asked Kim if she would ever consider taking part in the popular format. "Yes," she replied.
Of course, the next question was who she'd like to battle against, to which Kim replied, "Nicki." When Envy added that he would love to see that, she replied, "Me too." Based on all the social media reactions, they're not the only ones who would love to see a "Verzuz" with Lil Kim and Nicki Minaj. "Nicki vs Kim in a versuz would go crazy," one fan commented on Twitter. Who would win between the two? It's a tough battle. "When lil kim plays her own No Flex zone remix what the hell Nicki gone do??!" someone hilariously asked. "My girl said lil kim would win due to classics, but I'm sorry Nicki's features would lowest of keys-maybe-highkey wash kim," another one wrote.
What's certain is that it would be great to see the two officially squashing their beef with a "Verzuz" celebration. "I know ppl are looking for a contemporary but I love that Kim directly mentioned Nicki to show it's no beef & would close that chapter for good," one Twitter user commented. We'll keep our fingers crossed!