Is Braunwyn Windham-Burke Still Married To Her Husband?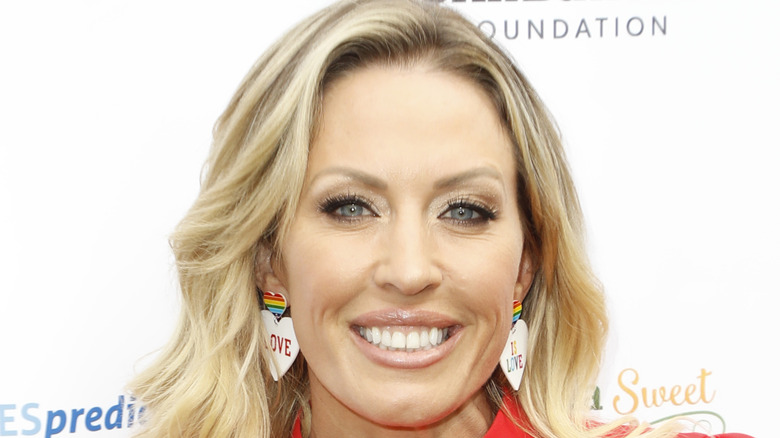 Joe Scarnici/Getty Images
Braunwyn Windham-Burke first burst on to the Bravo scene during Season 14 of "Real Housewives of Orange County" as a happily married woman with seven children, but by Season 15 that facade quickly started to crumble. Right out of the gate during the season premiere, fans of the show were shocked to learn that Braunwyn was struggling with alcoholism. 
Unfortunately Braunwyn's alcohol addiction was only the tip of the iceberg. As reported by People, during a bombshell interview with GLAAD in December of 2020, the reality star came out as a lesbian. "I like women. I'm gay," she declared. "I'm a member of the LGBTQ+ community. It has taken me 42 years to say that but I am so proud of where I am right now. I'm so happy where I am. To be able to be comfortable in my own skin after so long is just so nice," she added.
But where does this leave her 20-year-long marriage to Sean Burke? Keep reading to find out!
Braunwyn Windham-Burke and Sean Burke want to stay married
As reported by People, Braunwyn Windham-Burke and her longtime husband, Sean Burke, are taking things "day by day," but currently have no intentions of divorcing.
"Sean and I had a very good, long, honest conversation, and I was like, 'I want to be with a woman. This is what I want,'" Braunwyn explained during an interview with the PEOPLE Every Day podcast. "We had known that I was bisexual for a long time, but some things had happened ... I was sober, I was doing inventory, and I had, for the first time in my life, been with a woman, sober. ... And I was like, I'm not straight at all. I know this now," she continued.
Now, the parents of seven have resolved to simply take each day as it comes. "Some days have been great and some days have been really hard," she admitted. "We are doing our best to navigate something that I've never seen done before. We do want to stay married, we do want to stay parents, we are best friends. And some days that seems very attainable, and some days it doesn't," she confessed.
We wish the Windham-Burke family all of the best as they navigate their new normal!