Inside The Shocking Real Housewives Of Orange County Cast Shakeup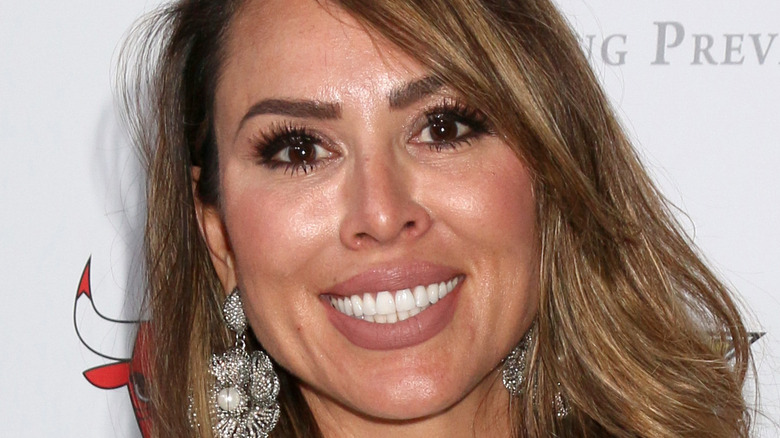 Shutterstock
There's a whole lot going on over at "The Real Housewives of Orange County." Bravo announced a huge shakeup for the upcoming Season 16 after some serious drama swirled around Season 15.
As fans will remember, before the latest season even premiered the show was firmly in the headlines due to Kelly Dodd's controversial comments about the coronavirus pandemic and her refusal to wear a face covering (per The Sun). In October 2020, Kelly shared photos to Instagram from her bridal shower that showed her wearing a hat that read "Drunk Wives Matter" in the style of the Black Lives Matter logo, which also, understandably, did not sit well with fans.
Kelly's controversial behavior had many longtime watchers threatening to boycott the show ahead of its latest premiere (via Vice), and several fan sites for the series even claimed they would not be posting updates on the controversial reality star.
Season 15 went on to premiere in October 2020 and there was still plenty of drama captured by the cameras before it wrapped in January — and the show is firmly back in the headlines after the cameras stopped rolling. So, what's really going on over on "RHOC"? Read on for the crazy movers and shakers in the California county.
Kelly Dodd is leaving RHOC after a controversial few months
It seems like "The Real Housewives of Orange County" fans who weren't so thrilled with Kelly Dodd finally got their way. Bravo confirmed to Variety on June 15 that Dodd is officially exiting the show after five seasons (she first joined the cast in 2016 for Season 11) after denying claims in February that she'd been fired. Also out for Season 16 are Braunwyn Windham-Burke and Elizabeth Lyn Vargas. That's certainly not all, though.
Despite previously saying she'd been unlikely to return to the franchise after appearing on Season 7 to 11, Heather Dubrow — who had an infamous feud with Dodd — will be making her triumphant return for Season 16. She'll be joined by Shannon Storms Beador, Gina Kirschenheiter, and Emily Simpson, with Variety noting that there will also be "one or two" new castmembers when the show returns.
It's safe to say fans had plenty to say about the shakeup on social media. "I'm actually shocked they fired from Kelly from #RHOC, as polarizing as she was, I honestly think she made great TV," one person tweeted. "Okay I was not expecting the #RHOC news at all... honestly I'm shocked, but I think it was a good choice," another wrote.
"RHOC" Season 16 is yet to get a premiere date but it's thought cameras will start rolling again in July, so new episodes could hit screens towards the end of 2021.