Gal Gadot Reveals The Name Of Her Newborn Baby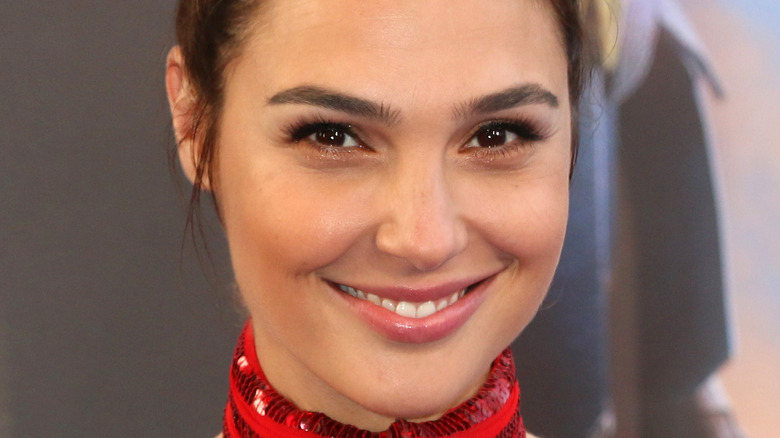 Shutterstock
It's a very female-dominated household now for "Wonder Woman" star Gal Gadot. The Israeli-born actor dropped the surprise news via a June 29 Instagram post that she and husband Yaron Varsano just welcomed the birth of a new daughter, making this their third child and third daughter (in addition to Maya, age 3, and Alma, age 9), per the Daily Mail. Gadot and Yaron, who is a real-estate developer, have been happily married since 2008 since meeting in 2006, according to the outlet. (Gadot just commemorated Yaron's June 23 birthday with an Instagram post of the pair warmly embracing and Gadot writing, "I'm the luckiest girl to have you in my life.") 
In March, the pair announced on Instagram — where else? — the happy news that they were expecting their third. "Here we go again," Gadot captioned the smiley family selfie that showed Yaron, Alma and Maya all caressing Gadot's baby bump. In late April, Gadot revealed the baby's sex on an episode of "Live with Kelly and Ryan," telling the hosts jovially, "It's baby girl number three. Yes, we're sticking to what we know." The action star also opened up about pregnancy's hormonal vacillations on the morning show, divulging that she cries at everything from "commercials" to "just a thought that crosses my mind." Luckily, at the end of Gadot's hormonally induced tears was a healthy baby girl. Read on for what she and Yaron named the new addition to their family! 
Gal Gadot can't wait to sleep-train her newborn
Posting a family Instagram selfie on June 29, which echoed her pregnancy announcement in March, Gal Gadot shared, "My sweet family. Couldn't be more grateful and happy (and tired). We are all so excited to welcome Daniella into our family. I'm sending all of you love and health. GG." Baby Daniella will sure be fawned over by older sisters Alma and Maya, and father Yaron Varsano. Alma carried the newborn in Gadot's Instagram snapshot, while middle child Maya also looked an all-smiles big sister. (The actor revealed on "Jimmy Kimmel Live!" that Maya had gotten "super curious about how the baby got in there."
On "Live with Kelly and Ryan" in April, Gadot shared what she and Yaron planned on doing differently with baby No. 3. "With Alma, our first, we completely messed up the whole sleep routine," Gadot shared. "And when Maya was born, we were like 'No more.' ... I think that's what we're going to stick to doing, we're going to sleep train her, we're going to make sure she loves and enjoys sleep."
Celebrities like Kate Hudson were quick to congratulate the "Fast and Furious" franchise alum in her comments section, with Hudson issuing three heart emojis Gadot's way. Meanwhile rapper and Gadot's "Fast" franchise co-star Ludacris teasingly wrote, "3 girls huh." It sure will be a lively house, but it sounds like it'll be one full of love.