Ronda Rousey Shares Exciting Update On Her Pregnancy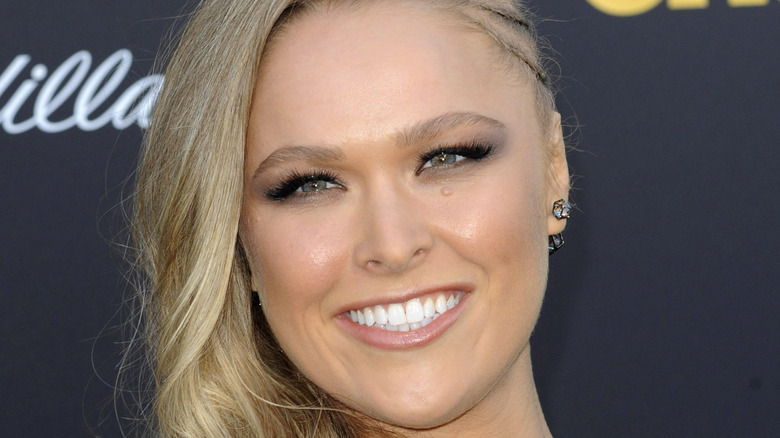 Shutterstock
Baby makes three for Ronda Rousey and her WWE star hubby Travis Browne. The star is usually pretty candid with fans, but instead of using her Instagram account to share photos and videos (along with other special news), Rousey often shares things with fans through YouTube. Her page, which she launched in 2019, boasts 1.4 million followers.
In April, Rousey shared a cute video with Browne by her side to announce that they were expecting their first child. At first, Rousey covered her belly with a pillow before revealing that she simply couldn't wait any longer to share the news. "Can't hide it anymore so it's time to show it off," Rousey shared while showing off her growing baby bump to the camera. She also added that she's four months pregnant, and they found out in January. "Thank you, everybody, for all the well wishes and all the positivity to get us to this point," she says at the end. "We're really excited for you all to meet [the baby] just like we are. ... Baddest baby on the planet coming to you soon, September 22!"
In addition, the video's caption is equally as funny and sweet. "The question that has been asked for many moons has an answer: is Ronda Rousey pregnant? Well, Travis Browne and Ronda have an announcement to make... Because they just made a baby." Keep scrolling to find out what else Rousey had to say about her little one on the way.
Ronda Rousey just revealed the sex of her baby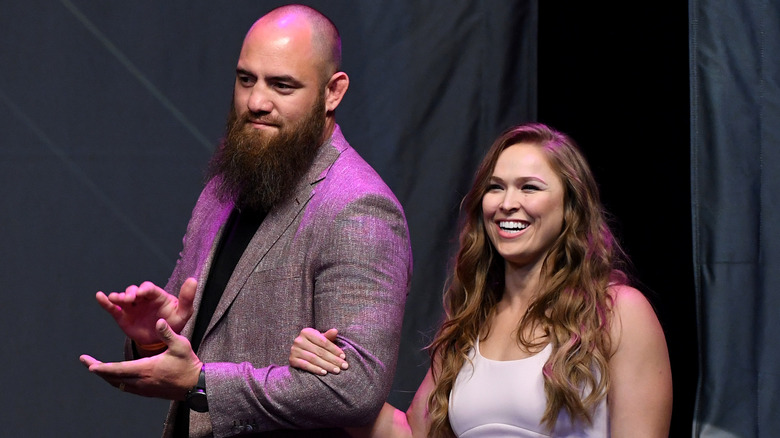 Ethan Miller/Getty Images
On June 29, Rousey revealed even more details on the upcoming arrival of her baby. The star took to her YouTube account, sharing a short clip with herself and her husband. The video captured the two outside, walking toward the camera and talking to viewers. "Our gender reveal is finally here," Rousey shared at the beginning of the clip. "We didn't wanna do anything that would set hundreds of acres ablaze or thousands even. Some people are idiots." She also noted that they are keeping "simple, safe, and Browsey Acres style." Next, the video went to an egg hatching animation, revealing that a little girl is on the way. The end of the clip included a few outtakes from the segment. 
It comes as no surprise that the video has received plenty of love from Rousey's fans. "Congratulations! You two are so awesome together. I kind of pity the first boy to take your daughter out – talk about intimidating parents!" one fan commented on the upload. "Congratulations I started crying when I saw this video! Your little girl especially to keep her healthy! Your little girl will have the best mom and the best dad! I love you," another added.
A few more gave the nod to Rousey for using a Pokemon egg for the reveal. "First of all Congratulations on your baby girl and the pokemon egg hatching was so cool and creative," a third user wrote. Congrats to the happy family!