How Simone Biles' Parents Showed Their Support For Her In The Sweetest Way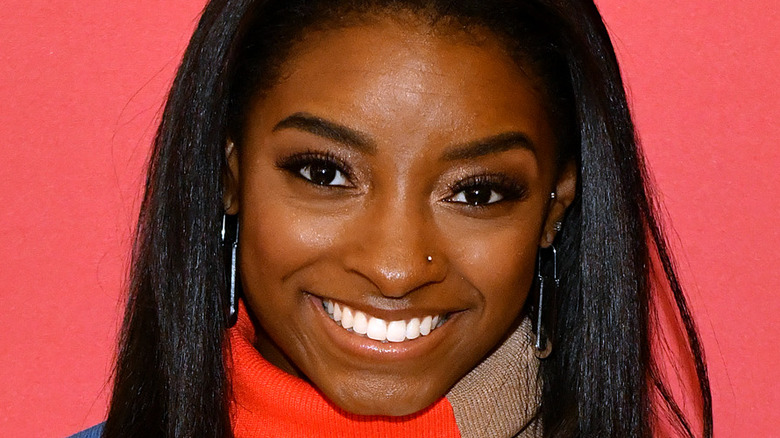 Craig Barritt/Getty Images
The 2021 Tokyo Olympics are fast approaching, and Simone Biles' parents are now supporting their daughter in the sweetest way. Not too long ago, the gymnast stunned everyone with a jaw-dropping routine at the U.S. Olympic Trials.
During her number, Biles showcased her own signature move, The Biles, which consists of a double-double dismount. As reported by NBC Sports, the young gymnast received an all-around score of 118.098. "She's really bringing her A Game she's gonna go down As one of the most best African American Gymnast Athletes in Black history if she wins the Olympics in Tokyo," one fan tweeted in support of Biles. 
On June 29, the athlete also shared her excitement about representing the U.S. at the upcoming Olympics. "WE'RE GOING TO TOKYO," Biles wrote. "such a surreal feeling. I can't believe I made the olympic team for a 2nd time & I'm beyond excited to represent Team USA." She continued, "This is just the beginning of the journey. thanks for all the endless support & love. I couldn't ask for better support." After thanking her fans on Twitter, Biles has now shown appreciation towards her biggest supporters — her parents. Read more below.
Simone Biles' parents rocked matching T-shirts
As Simone Biles prepares for the much-anticipated 2021 Tokyo Olympics, her parents, Nellie and Ronald, decided to surprise with a sweet gesture. Taking to Instagram on June 30, Biles posted a picture of herself with her parents. In the picture, Biles' mother and father can be seen rocking matching T-shirts, which come with their daughter's "Because I Can" quote printed on the front.
"appreciation post for my sweet parents [heart emoji]," Biles wrote in the caption. "thanks for making sacrifices since day 1 so I can live out my dream." She continued, "But most importantly thanks for always being there for me through all the highs and lows. You guys are the absolute best. I love y'all."
This isn't the first time Biles has shown appreciation towards her parents for their support over the years. "My parents saved me," she said on "Dancing With The Stars" in 2017 (via Today). "They've set huge examples of how to treat other people, and they've been there to support me since day one. There's nothing I could say to them to thank them enough." How sweet!