The Truth About The New Record Simone Biles Just Set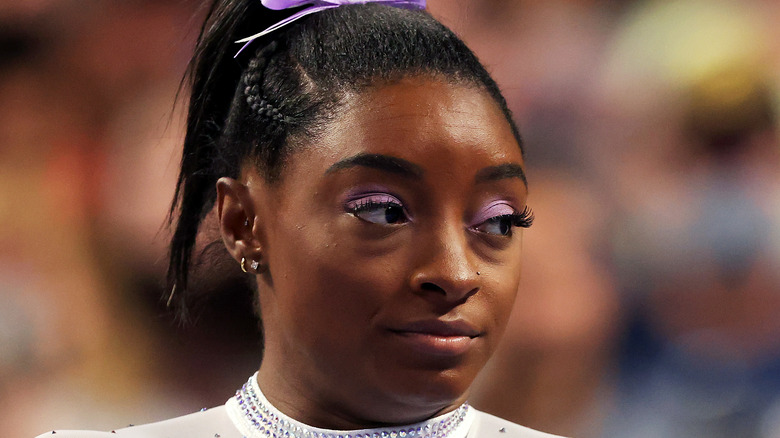 Jamie Squire/Getty Images
Simone Biles is one of the most decorated American gymnasts, and she sets the bar higher and higher each time she competes. The four-time 2016 Olympic gold medalist won her seventh all-around U.S. Gymnastics national title on June 6, per CNN. The victory itself broke a record for winningest American titleholders, and her seven are now the most held by a U.S. competitor.
"I feel like I did try to enjoy it because it could be one of my last championships that I'll attend," Biles told NBC Olympics after the win. "But it's also the road to Tokyo, and after this we have trials, so we just have to really embrace the moment." With Biles' sights set on the 2021 Tokyo Olympics, she'll next compete in the U.S. Olympic trials on June 24-27, per CNN. And she's on her way to becoming the most decorated gymnast in the Olympics and the world championships.
But let's not get too far ahead. Read on for more about Biles' big win.
Simone Biles dominated the competition to set her new record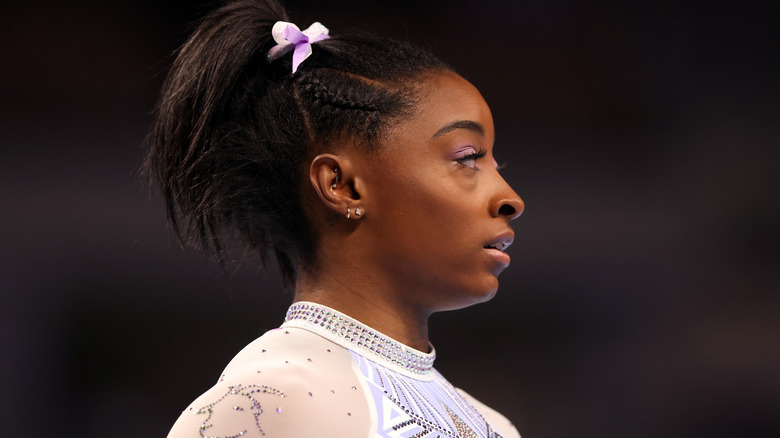 Jamie Squire/Getty Images
Gymnast Simone Biles started the U.S. National Championships as the top contender, and it stayed that way. During the event in early June 2021, she won the vault, balance beam, and floor exercise titles, as well as the all-around victory, according to NBC Olympics. 
Aside from winning her record-setting seventh all-around title, Biles said the win was also special because it was on the way to the Olympics. "I feel like every single championship stands out for a different reason, but this one stands out specifically because it's the road to Tokyo," Biles told the news outlet. "We came out here, and we did what we were supposed to."
And Biles certainly knows just how good she is at the sport. During the championship, she sported leotards that have a crystal goat embellished on them, per PopSugar — you know, because she's the G.O.A.T. (greatest of all time)? Biles told Marie Claire that the bedazzled goat was a way to "hit back at the haters." The gymnast added in the interview: "[The haters] were joking like, 'I swear, if she put a goat on her leo, blah, blah, blah.' That would make them so angry. And then I was like, 'Oh, that's actually a good idea. Let's make the haters hate it, and the fans love it'... I just hope that kids growing up watching this don't or aren't ashamed of being good at whatever they do."