How Simone Biles Just Stunned Everyone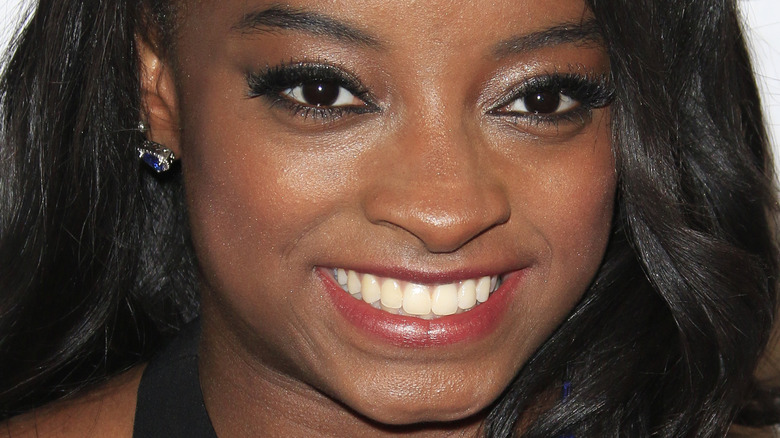 Shutterstock
Simone Biles is still at the top of her game. The athlete has repeatedly dazzled fans with her mesmerizing routines and seriously tough moves — and she's certainly not slowing down when it comes to preparing for the Tokyo Olympics.
Though there was a time when fans were worried Biles may not head to Japan for the postponed Olympic Games, she's very much still in the game. "It was definitely a bit of a struggle mentally and physically because [gymnastics] is very taxing on your body," Biles explained to Time in a June 24 interview of the extra 12 months added onto her practice time due to the coronavirus pandemic. "I feel like last year my body didn't hurt this much. If I had my body from last year, I would be blessed."
Biles — who's also hit the headlines for her loved-up personal life – has seriously stepped up her game to compete in the prestigious event, revealing that she and her team now "talk about Simone 2.0," adding, "I still love the sport, and that's why I'm doing it." After Biles opened up about her issues with scoring discrepancies, she most certainly is still doing it, and doing it in a huge way. 
Read on to find out how the star — who's widely considered to be the best U.S. gymnast of all time — just left everyone stunned once again.
Simone Biles pulled off an 'insane' routine to make it into the Tokyo Olympics squad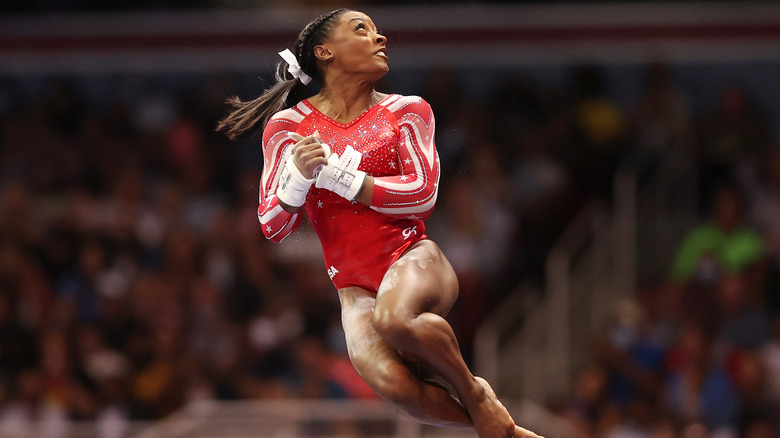 Carmen Mandato/Getty Images
Simone Biles proved she very much still has what it takes while competing at the U.S. Olympic Trials. Biles wowed fans with her seriously tough routine on night one on June 26 when she proudly showed off a double-double dismount — her signature move known as The Biles — while performing her beam routine and floor routine.
Biles ended the trials with all-around score of 118.098, receiving 29.966 for her floor exercises, 30.866 for her vault routine, 28.433 for uneven bars, and 28.833 for her turn on the balance beam (per NBC Sports). And it's safe to say that fans were totally dazzled by her display.
"That was insane. Simone Biles is a superhero," one person tweeted, while another wrote, "Watching Simone Biles rn!!!! To watch this level of greatness is INSANE." A third tweeted, "Standing ovation for the GOAT @Simone_Biles. What a privilege to be living in the age of Biles. #GymTrials21."
Unsurprisingly, Biles' routine landed her a secure spot on the U.S. Gymnastics team (would there even be a team without her?) for the postponed 2020 Tokyo Olympics, which became the 2021 Tokyo Olympics beginning on July 23. She'll be heading to Japan alongside fellow gymnasts Sunisa Lee, Jordan Chiles, Grace McCallum, MyKayla Skinner, and Jade Carey (per CNN).
Now THAT's a team!