Ignore Kathy Hilton's Tweet, Jennifer Aniston Is Not Pregnant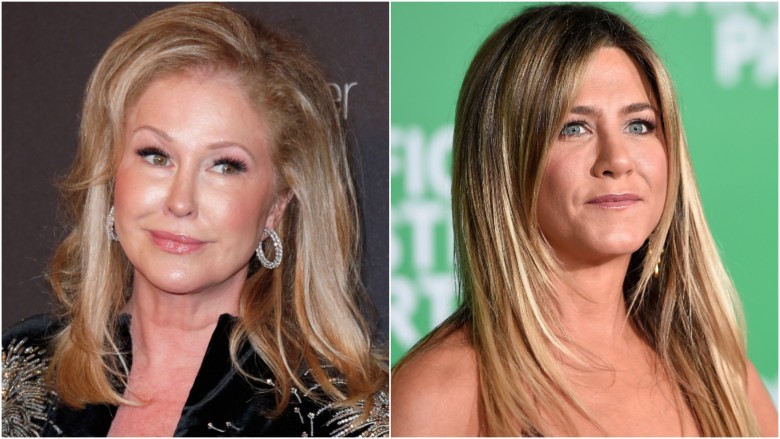 Getty Images
If you follow Kathy Hilton on Twitter, which apparently more than 103,000 people do, you may have noticed an odd post the other day.
During the Oscars on Feb. 26, 2017, the mother of socialites Paris Hilton and Nicky Hilton Rothschild tweeted about Friends alum Jennifer Aniston. She wrote (via The Sun), "Jennifer Aniston looks so beautiful tonight I am telling you she is having a baby girl. 100/percent!" She then punctuated her thought with a series of exclamation points and positive emojis like hearts and flowers.
The problem is that Aniston isn't pregnant—no matter how many tabloids claim otherwise. And what's more, according to E! News, Hilton doesn't even know the famous actress. "Shame on her," a source stated. "It's so rude."
Rumors of pregnancy are nothing new to Aniston. She's been falsely targeted as an expectant mother for years. She addressed the gossip in an article for The Huffington Post in 2016, admitting to being "fed up" with the media's watchful eye. "I have grown tired of being part of this narrative," she wrote. "Yes, I may become a mother some day, and since I'm laying it all out there, if I ever do, I will be the first to let you know."
It's possible that Hilton recently read Star magazine, which claimed in mid-February 2017 that Aniston and husband Justin Theroux were expecting. Or maybe she simply confused Aniston with Natalie Portman, an actress who truly is pregnant (although Hilton denied this suggestion when tweeted by fans).
Whatever the case, it appears that the multi-millionaire realized her snafu, as the tweet has since been deleted.