Everything We Know About Donald Rumsfeld's Death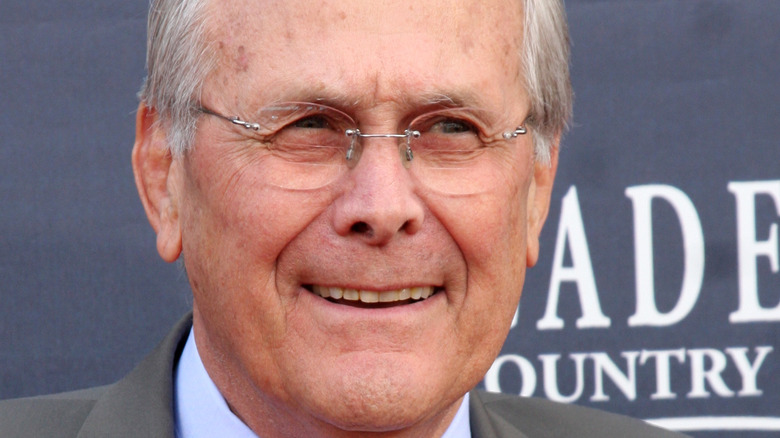 Shutterstock
Donald Rumsfeld, the former Secretary of Defense — who was most linked to George W. Bush's administration — has died. CNN reports that Rumsfeld was 88 when he died, and the Rumsfeld family released a statement about his death earlier today. 
"It is with deep sadness that we share the news of the passing of Donald Rumsfeld, an American statesman and devoted husband, father, grandfather and great grandfather. At 88, he was surrounded by family in his beloved Taos, New Mexico," they said (per CNN). "History may remember him for his extraordinary accomplishments over six decades of public service, but for those who knew him best and whose lives were forever changed as a result, we will remember his unwavering love for his wife Joyce, his family and friends, and the integrity he brought to a life dedicated to country."
A spokesperson for the family told The New York Times that the cause of Rumsfeld's death was cancer. Read on to find out what else we know about his death.
Donald Rumsfeld died from a rare form of cancer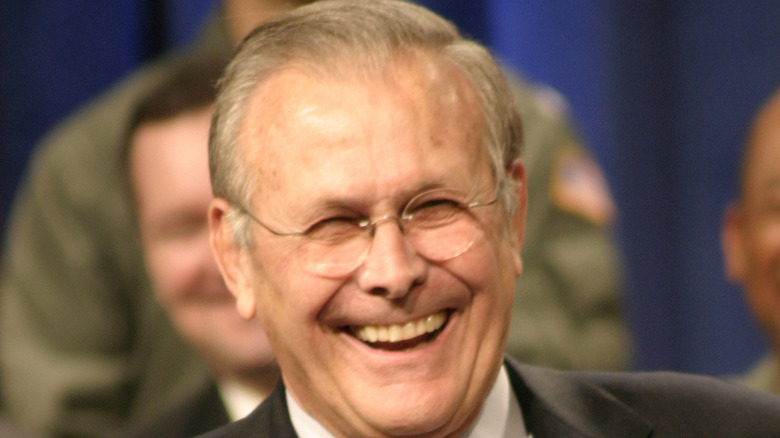 Shutterstock
Donald Rumsfeld died from "multiple myeloma," a spokesperson for the Rumsfeld family told The New York Times. Cancer.net reports that the disease is "not common," and that only 6,840 men with multiple myeloma will die from it in 2021. According to Mayo Clinic, "Multiple myeloma is a cancer that forms in a type of white blood cell called a plasma cell. Healthy plasma cells help you fight infections by making antibodies that recognize and attack germs." But "in multiple myeloma," the site notes, "cancerous plasma cells accumulate in the bone marrow and crowd out healthy blood cells. Rather than produce helpful antibodies, the cancer cells produce abnormal proteins that can cause complications."
Though he is perhaps best known for his work under President George W. Bush, Rumsfeld first got his start as the Secretary of Defense under Gerald Ford, per CNN. This made him both the youngest Secretary of Defense (under Ford) and the second-oldest Secretary of Defense (under George W. Bush). In between his tenures, Rumsfeld was also a three-term congressman and served as CEO of several companies, per Brittanica. CNN claims he was "seen as a hero after the 9/11 attack on the Pentagon," but as Sydney Morning Herald recalls: "He oversaw the invasions of Iraq and Afghanistan, and claimed Iraq had weapons of mass destruction. He famously used the phrase, 'There are known knowns' in reply to a reporter's questioning about the lack of evidence for such weapons."