How Many Grandchildren Does Tony Bennett Have?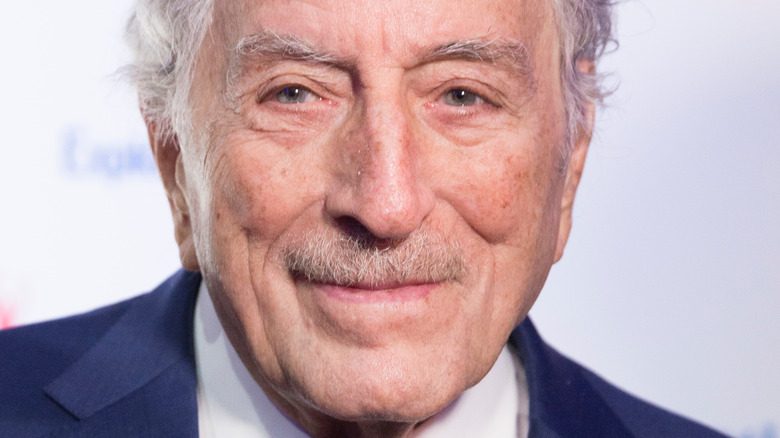 Shutterstock
Earlier this year, fans of legendary singer Tony Bennett were devastated to learn that he was diagnosed and living with Alzheimer's disease, an age-related dementia (via Page Six). While the 94-year-old's condition has been steadily progressing, the talented "I Left My Heart in San Francisco" artist luckily hasn't lost his love for and ability to sing. His third wife, Susan Crow, told AARP that, "There's a lot about him that I miss. Because he's not the old Tony anymore... But when he sings, he's the old Tony." Bennett's neurologist, Dr. Gayatri Devi, told his wife that the key to keeping his brain stimulated for as long as possible was to encourage him to continue singing and performing. And this is exactly what "The Way You Look Tonight" singer has been doing. 
Recently, Bennett has been collaborating with fellow singer Lady Gaga to appear on a special edition of "MTV Unplugged" (via People). This is their second collaboration, following the successful release of their mega-hit album, "Cheek to Cheek," in 2014. Bennett is clearly determined not to let his setbacks prevent him from continuing to pursue his passion for music and performing. When he isn't performing, Bennett spends time with his family, including his wife, his children Antonia, Danny, Dae, and Joanna, and his four grandchildren. Keep scrolling to learn more about the youngest additions to his family.
Tony Bennett has four grandchildren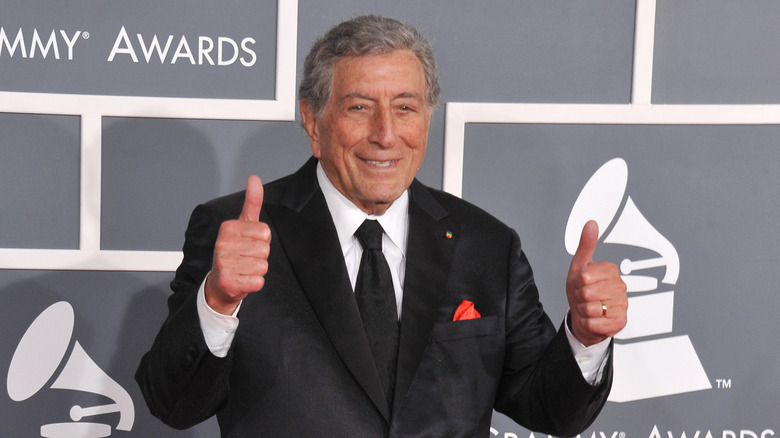 Shutterstock
Tony Bennett has four children from two different marriages (via Closer Weekly). His first marriage to Patricia Beech brought the couple sons Danny and Dae. He welcomed his two daughters, Joanna and Antonia, with his second wife, Sandra Grant Bennett. When he married his third wife, Sandra Crow, in 2007, the couple decided to hold off on having children, with Crow becoming a loving stepmom to Bennett's brood. The iconic singer passed along his love for showbiz to his kids and all of them have pursued a career in music and Hollywood.
Bennett is now the proud grandfather of four grandchildren: Remy and Kelsey are Danny's daughters, while Jared and Austin are Dae's sons (via All Star Bio). The family's love for entertainment trickled down to the grandchildren, as well. Remy Bennett has already made a name for herself in Hollywood and starred in movies, including "Buttercup Bill," "Newly Single," and "The Wolf of Wall Street." Her grandfather has served as her inspiration since she was a little girl (via Evening Standard). "Working like that, it's vigorous," she said of her grandfather. "You have to love what you do. He is on a continual wave to learn. You owe it to yourself and your collaborators. It was very interesting growing up around someone like that."
The "Who Can I Turn To" artist welcomed his most recent grandchild in 2017 (via People). He shared a photo of the sweet moment he met the little bundle of joy on Twitter alongside the caption, "Welcoming my new grandson... born this weekend!"