What You Didn't Know About Tony Bennett's Ex-Wives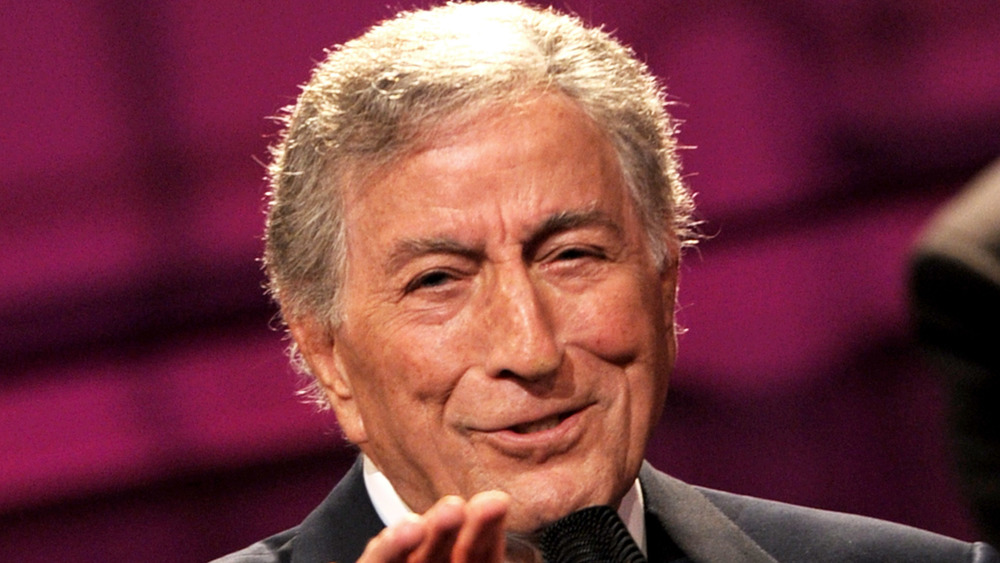 Kevin Winter/nbcuniversal/Getty Images
Tony Bennett may have "left his heart in San Francisco," but what should you know about his two ex-wives whom he perhaps didn't leave his heart with? Born in Queens, New York and discovered by Bob Hope, the legendary silver-haired crooner (he pretty much embodies the term) has been serenading audiences for generations. Hits like 1962's "I Left My Heart in San Francisco" have stood the test of time, and, per his website, he's "one of a handful of artists" to chart in seven decades. You gotta respect that! 
The singer's influence is showcased in the fact that in 2014, he collaborated on the album Cheek to Cheek with Lady Gaga. Simply put, he's a fixture of modern pop music. But romantically, it seems Bennett's past is a little more ... grimace to grimace, at least in one case.
Since 2007, Bennet has been married to his third wife — who is 40 years his junior — Susan Crow, a one-time fan who met the legend backstage at a show. "I not only agreed to say hello to her backstage but asked her to be my date for the evening," Bennett wrote in his 2016 book Just Getting Started (via Closer Weekly). But what can be said of Bennett's two previous marriages? From Phil Collins to Bruce Springsteen, failed romances aren't uncommon amongst musical greats, but were things amicable when Bennett's past relationships hit a sour note, so to speak? 
Scroll down to find out what you didn't know about Tony Bennett's ex-wives. 
Tony Bennett's second divorce wasn't finalized for decades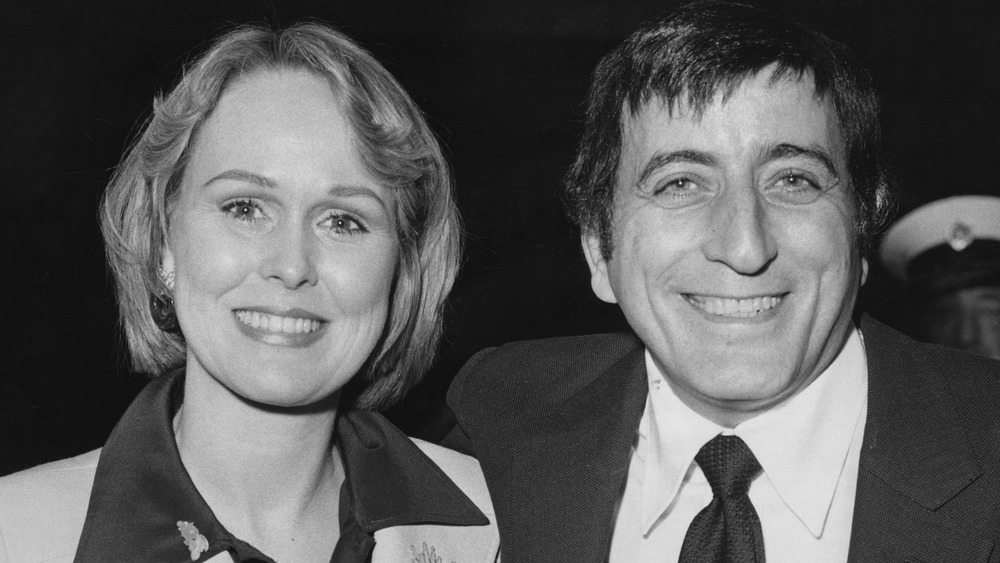 Central Press/Getty Images
Tony Bennett and his first wife, Patricia Beech, tied the knot in 1952. The day they said "I do," apparently "some 2,000 wailing young women, clad in black dresses and veils, ringed New York City's St. Patrick's Cathedral in mock mourning," per Good Housekeeping. Despite all the hoopla, the two went their separate ways in 1971. They share two children — sons D'Andrea and Daegal. That same year, the hitmaker married his second wife, Sandra Grant Bennett. They had two kids as well — daughters Joanna and Antonia — before splitting in 2007, but the reality is more complicated. 
Bennett and his second wife actually split in 1979, per Closer Weekly. The singer and his current wife Susan Crow "dated for nearly 20 years before marrying in 2007," per the outlet, and it seems sealing the deal was long overdue. "Thank God, my divorce papers are finalized with Tony after all these years," Sandra Grant Bennett told Page Six in 2007. "The Tony I knew is not the same smiley Mr. Nice Guy the world knows." 
According Page Six, their eight-year marriage had "dark parts," taking place during a dip in Bennett's career with touring absences, "financial woes" and "drug use." In fact, Sandra Grant Bennett added she regrets not marrying boyfriend Joe DiMaggio. Yes, the Yankees baseball star. "Tony is not much of a gentleman compared to Joe," Sandra told Page Six. "[Some years] after Joe divorced Marilyn Monroe in 1954, I was with him on and off for many years until I met Tony," she said, adding, "I guess I married the wrong man."
Ouch, well, here's to Tony Bennett's brighter horizons!