What's Going On With Gizelle And Jamal Bryant?
Paras Griffin/Getty Images
On Season 5 of the "The Real Housewives of Potomac," fans saw Gizelle Bryant reunite with her ex-husband, Jamal Bryant. The two, who share three children together, tied the knot in 2002, but divorced seven years later due to Jamal's reported infidelity. Then, the couple gave it another chance in 2020. "He has always let me know through the years that he loves himself some Gizelle," the "RHOP" star told Andy Cohen on "Watch What Happens Live" in August 2020, confirming she was back with Jamal. "And even with the divorce, we've always had a great friendship. So, I want to say that 'Papa don't preach' was preaching to me," Gizelle joked.
According to her, things between them were much better than when they were married, especially when it came to communication. "I see so much maturity in him, he has an overwhelming sense of humility and humbleness," she explained. "And I think that we communicate so much better now. Our communication is on point."
Despite trying to make things work again, however, the couple decided to try the long-distance thing, as Gizelle still lived in Maryland while Jamal remained in Atlanta, leading the New Birth Missionary Baptist Church. And apparently, being apart turned out to be harder than expected for the newly reconciled couple. Find out more below.
The pandemic caused Gizelle and Jamal Bryant to drift apart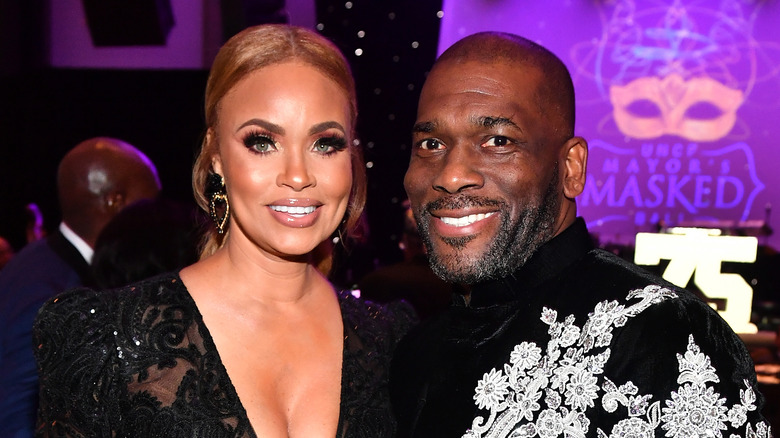 Paras Griffin/Getty Images
Not long after Gizelle and Jamal Bryant reconciled, rumors of the pastor cheating (again) hit the internet. In particular, reports claimed Jamal had fathered a child with one of his church followers (via People). Speaking with Andy Cohen in May 2020, Gizelle slammed the rumors. "It's a lie, and clearly, we're very important if people are gonna make up these lies," she said on "Watch What Happens Live." She continued, "Put some respect on Jamal's name. He's doing wonderful things in Atlanta."
Then, in December 2020, fellow "RHOP" castmate Monique Samuels brought forward new cheating allegations during the Season 5 reunion. Per Monique, Jamal had been cheating on Gizelle with yet another churchgoer, and even went as far as reading excerpts from their alleged text convo. Despite Monique's receipts, however, Gizelle kept defending her man. "I don't believe anything that comes out of Monique's mouth, or anything that she has in her binder," she said during the reunion special. "I'm glad she has done some bindering." Then, a few months later, Gizelle announced she was single... and, this time, it was not due to Jamal's alleged cheating.
According to Gizelle, travel restrictions due to the pandemic ultimately caused them to drift apart. "We were working on us getting back together... but he lives in Atlanta and I live in Maryland," she explained to "The Breakfast Club" in May. "With the pandemic we just realized it's not the right time."