What Wendy Osefo From RHOP Does For A Living
Bravo's hit reality series "Real Housewives of Potomac" has had a number of strong, philanthropical DMV-area ladies on its show. From the ball and gala gal, Katie Rost, to the Grande Dame herself, Karen Huger, to the vibrant and sociable Gizelle Bryant to even the restaurant entrepreneur Ashley Darby and ex-NBA wife Charisse Jackson Jordan, the cast has been fun to watch for the last five years because of their interesting careers. And, well, you know the drama that unfolds around them, too is always a plus. 
One cast member, in particular, who's getting a lot of attention due to her promising career is newcomer Wendy Osefo. Wendy joined the casts in 2020 and, according to The Washington Post, she's not your average housewife, even for the ladies of Potomac. 
Why you may ask? For those who don't consider themselves Bravo-holics, don't fret! We've got all the inside details about this 37-year-old, Nigerian-born mother of three who spends her time as a professor, political analyst, and entrepreneur, per Bravo TV. From where she teaches to when her new memoir is coming out, here's everything you need to know about what Wendy does for a living. Keep reading to find out more about this one-of-a-kind housewife.  
Wendy Osefo has a number of lucrative positions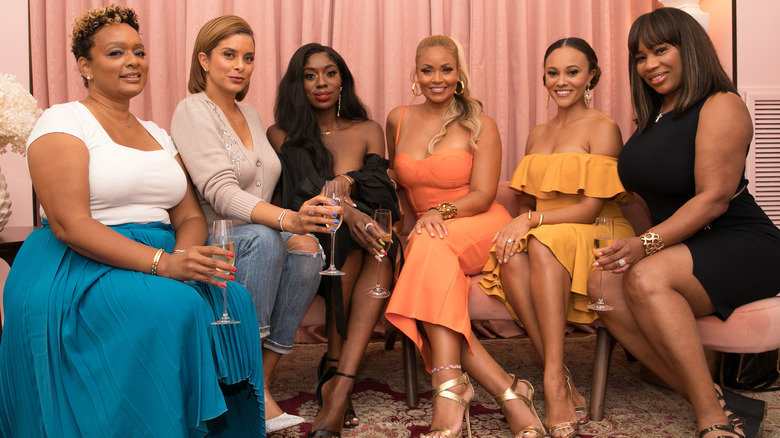 Brian Stukes/Getty Images
This real housewife knows the value of hard work and made a name for herself long before joining the must-watch reality show. The Washington Post reports that she's "the first Black woman to earn a Ph.D. in public affairs and community development at Rutgers University; is an assistant professor at Johns Hopkins; and regularly appears on national TV networks providing analysis on race and politics." However, her work doesn't stop there. The Washington Post also notes that Wendy is a philanthropist, too. She's the CEO of the 1954 Equity Project, LLC, which "helps minorities thrive in higher education."
Along with these high-titled positions, Wendy's Bravo's bio says that she has "served as the Director of Family and Community Engagement for President Barack Obama's antipoverty initiative, DC Promise Neighborhood Initiative." She's also married to an attorney, Edward Osefo, and is a devoted mother to her three children: eight-year-old son Karter, six-year-old son Kruz, and two-year-old daughter Kamrynn, via Bravo TV. People also reports that Wendy will be a published author soon. Her memoir titled "TEARS OF MY MOTHER: The Legacy of my Nigerian Upbringing" will be out May 2022.
So, it sounds like this new blood is not going to be easily played like other newcomer housewives on the franchise. Wendy's impressive resume means she's just as powerful as the rest of the "Real Housewives of Potomac" cast members.