Body Language Expert Noticed This During Meghan McCain's Farewell On The View - Exclusive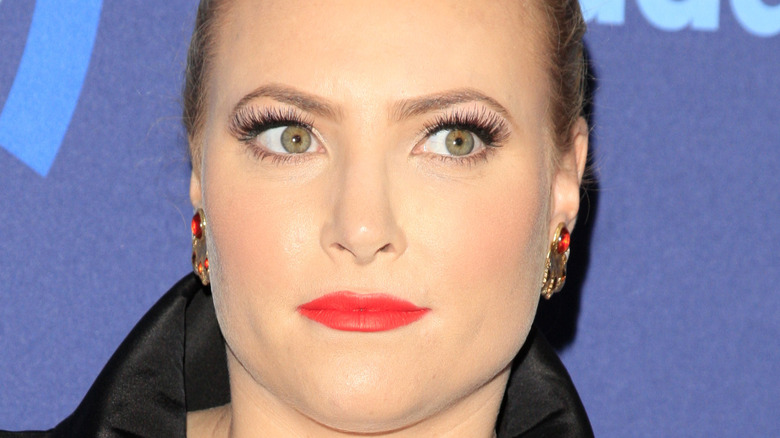 Shutterstock
It's the end of an era. Meghan McCain, daughter of senator and former presidential hopeful John McCain, is leaving "The View." The political daughter and Olympic-level hot-take-generator announced on the show that she had decided to move on after four years, citing her reason for leaving as wanting to be in Washington, D.C. full-time with her husband, their young daughter, and friends. 
Everyone knows that McCain's relationship with the show's other hosts was not always the easiest, which is why we consulted an expert to help us decode their unspoken reactions. "This was not an easy decision," McCain said in her announcement. "It took a lot of thought and counsel and prayer and talking to my family and close friends." She also added that she would still be finishing out the season, joking to her co-hosts, "so if you guys want to fight a little bit more, we've got four more weeks."
Body language expert Jason Lee, a former professional poker player and relationship science and data analyst at Healthy Framework, told Nicki Swift there was one moment in particular that jumped out at him.
Meghan McCain's announcement got mixed reactions from her co-hosts
We know that Meghan McCain doesn't always get along with her co-hosts on "The View," particularly Joy Behar. So it wasn't the biggest surprise when body language expert Jason Lee said Behar's reactions seemed a little forced.
"A moment that stood out to me from this exchange is when Meghan shared a candid story about her late father's comments about [co-host] Sonny [Hostin] being a striking, gorgeous woman. All of the co-hosts reacted simultaneously with genuine smiles and laughter — except for Joy Behar," Lee notes, explaining, "Behar's delayed reaction seemed to be a forced smile that I would venture to say may have been out of a feeling of necessity."
Lee also says that you can tell Behar felt uncomfortable for the rest of the segment, especially compared to everyone else. "Immediately following that, you can see Joy start squirming in her chair, which is often a sign of uncomfortable nervousness that accompanies a forced and fake reaction. Throughout the remainder of the segment, the other three co-hosts continue to genuinely smile and enjoy the story. No smiles from Joy, though." Well, at least she only has another four weeks to fake-smile through.
And Behar did express her feelings about McCain, calling her a "formidable opponent" and praising her for holding onto her steadfast opinions.