Trump Jr. Had A Brutal Response To Trump Org. Charges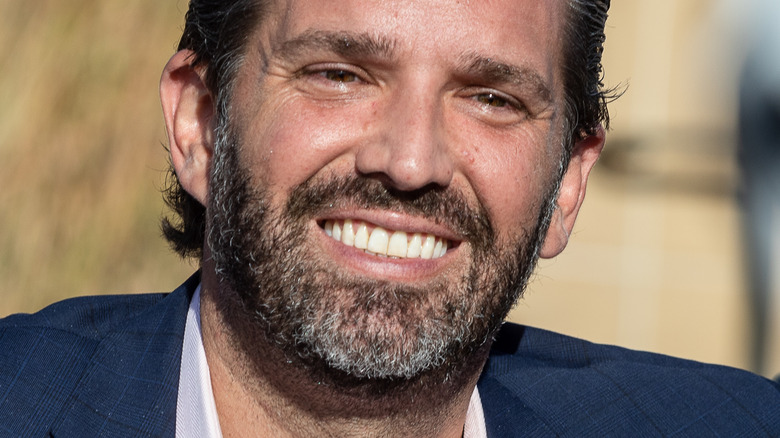 Shutterstock
Charges were laid against the Trump Organization and its chief financial officer Allen Weisselberg on July 1, which led to the CFO turning himself in to authorities. Weisselberg was "charged with 15 felony counts, including scheme to defraud, conspiracy, and grand larceny," per Insider. Authorities alleged that the Trump Organization CFO had evaded taxes on salary, goods, and perks including free rent that totaled $1.76 million dating back to 2005, according to CNN. The Trump Organization was charged with compensating not only Weisselberg, but also other executives of the company, "off the books." In addition to concealing payments, the company was accused of other charges, including misleading insurers on the value of properties and making "hush money payments to silence an alleged affair with Trump," per CNN.
The indictment alleged that the Trump Organization had two sets of bookkeeping books which included a private book that kept track of all the actual earnings of Weisselberg and others, per NBC. Both the organization and the CFO pled not guilty to the charges. New York Attorney General Letitia James said, "This investigation will continue, and we will follow the facts and the law wherever they may lead," per Fox News. 
But one of the organization's attorneys, Ron Fischetti, was flabbergasted by the charges. "In my 50 years of practice, I have never seen this office bring a case like this and, quite frankly, I am astonished," Fischetti said. He wasn't the only one to voice disdain about the charges levied against the Trump Organization.
Donald Trump Jr. thinks his dad was targeted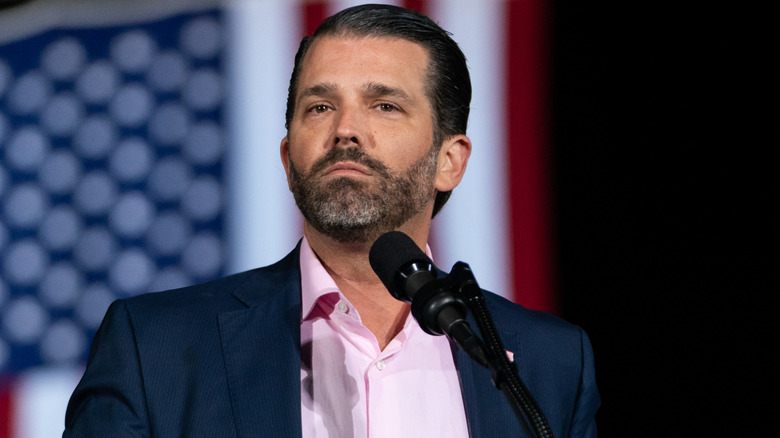 Bloomberg/Getty Images
Donald Trump Jr. had incendiary words about the charges filed against the Trump Organization and Allen Weisselberg. The son of the former President of the United States appeared on "Fox News Primetime" to bash the charges, claiming Democrats targeted his father. "The reality is this: Prior to politics, no one questioned whether my dad built good buildings, or ran a great business," Trump Jr. said (via Insider). "This is what Vladimir Putin does," the former POTUS' eldest son added (via the New York Post). "[T]hey're going to charge a guy who's 75 years old on crimes of avoiding paying taxes on a fringe benefit."
When speaking about the charges filed against the Trump Organization CFO, Trump Jr. argued that Weisselberg only owed around "10 grand a year" in unpaid taxes, per the New York Post. "This is a farce. It's a disgrace that they spent millions of dollars and years, instead of prosecuting actual murderous thugs on the streets of New York," Trump Jr. said on the Fox program. "[T]his is banana republic stuff, and if our press was even a little bit intellectually honest, they'd be calling it that," he added. 
Trump Jr. claimed the charges were filed "going into 4th of July weekend, because they know it's a disgrace." He mentioned that Weisselberg has no incriminating evidence against his father. "Everyone's talking about, 'Well, they want to get him to flip.' There has to be something to flip on," Trump Jr. said (via Insider).