How Drew Peterson Really Felt About His Lifetime Movie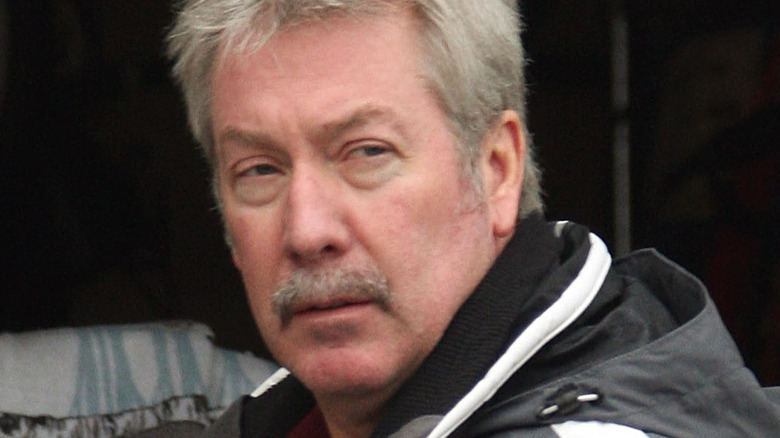 Scott Olson/Getty Images
Drew Peterson is a former police officer from Bolingbrook, Illinois who's currently serving a 38-year prison sentence for the 2004 murder of his third wife, Kathleen Savio. Peterson and Savio married in 1992. Per the Chicago Tribune, "The forensic pathologist who performed the original autopsy determined the cause of death was drowning and speculated she may have slipped in the tub and hit her head, causing her injuries." Her death was initially ruled an accident and Peterson was absolved of any suspicion.
Peterson might have gotten away with it had he not married for the fourth time. In 2003, Peterson, who was 49 at the time, married 19-year-old Stacey Cales. When she went missing without a trace in October 2007, authorities reopened the investigation into Savio's death, too, leading to Peterson's eventual conviction. He's strongly suspected to be responsible for Stacy's disappearance, but it has never been proven, per WGN. (Oh, and Peterson also had another 40 years tacked onto his sentence for trying to hire a hitman to kill the prosecutor in his case, per the New York Daily News.)
In 2012, Lifetime made a movie about Drew Peterson and he had some thoughts about the film. Keep reading to find out what he said.
Drew Peterson found the film 'hysterical'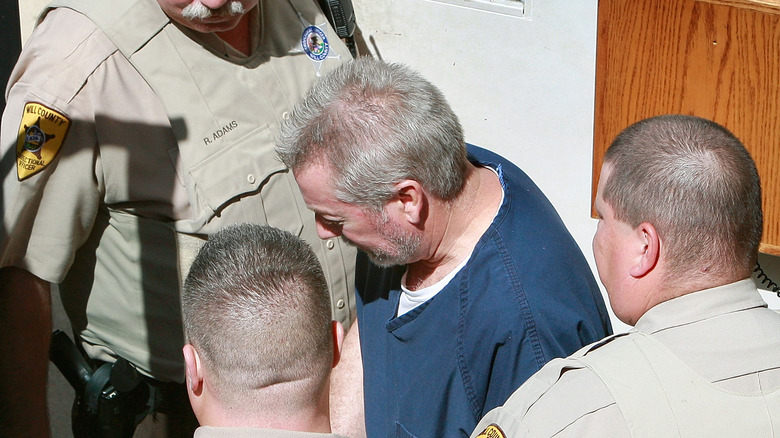 Scott Olson/Getty Images
Before we get to how Drew Peterson felt about the 2012 Lifetime movie about him, it bears mentioning that in 2008, Peterson's former attorney Joel Brodsky called Chicago radio station WJMK's "The Steve Dahl Morning Show" and pitched the idea of a segment called, "Win a Date with Drew Peterson," per Fox News. Peterson told the show, "The ladies are coming back around." As one might have expected, the radio station did not go through with the segment.
In January 2012, however, Lifetime released its film about the period leading up to Peterson's eventual arrest, "Drew Peterson: Untouchable," which starred Rob Lowe as the disgraced former police officer, per the Chicago Tribune. Peterson watched the film from jail and, according to his attorney Joel Brodsky, he found it "hysterical," via another report from the Chicago Tribune.
Brodsky said, "He chuckled at all of the inaccuracies and things that never happened. Obviously, he is concerned people might be influenced by the movie's inaccuracies, but we agreed that anyone who thinks a Lifetime movie is factual shouldn't be on a jury in the first place."