What Southern Charm's Madison LeCroy Does For A Living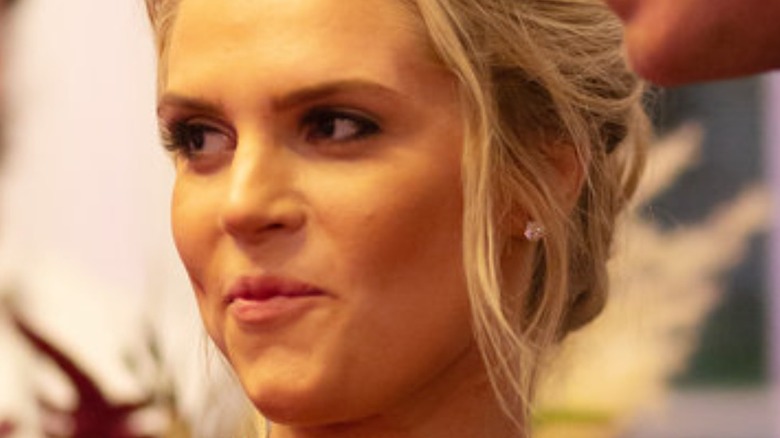 Paul Cheney/Bravo
"Southern Charm" star Madison LeCroy has been all over the news in 2021. First, the reality TV star had a short affair with Jay Cutler. Madison made daily headlines after news broke that she was supposedly the reason Jennifer Lopez and Alex Rodriguez split. According to Page Six, Madison said that A-Rod "never physically cheated on his fiancee." But the fact that Rodriguez was reportedly sliding into Madison's DMs and face timing the "Southern Charm" star while engaged didn't look great.
On June 28, Madison created an online uproar when she and her friend Kat Velasco were live on Instagram during a pool party. While the "Southern Charm" star and Kat were drinking while on Instagram, Madison accidentally flashed the camera as she danced and moved around the pool. She apologized for flashing people after the incident with her usual flair. Madison isn't shy about hitting back at her online critics, either. In June 16 interview with US Magazine, Madison said, "I have my own money... I'm not a gold digger," seemingly responding to critics of her connections to A-Rod and Cutler.
Fans are familiar with Madison because of the hit Bravo reality series, but what does she do for a living off-camera? Keep scrolling to learn more about the controversial star of "Southern Charm."
Madison LeCroy is a hair stylist and makeup artist
Madison LeCroy is a hairstylist and makeup artist when she's not on "Southern Charm." According to her "Southern Charm" bio, Madison is "the most sought-after hair and makeup artist in Charleston, SC. She currently owns a thriving downtown salon." As Screen Rant reported, Madison's salon is called Blush & Brushes. Madison specializes in the balayage hair color technique, which creates graduated highlights, per Hollywood Life.
According to Screen Rant, Madison's estimated net worth is $1.25 million. Madison's successful salon and her paycheck from the Bravo reality series ($25,000 per episode) have allowed her to build wealth at a young age.
When she's not working, the "Southern Charm" star spends time with her adorable son. Madison is a single mom to her 8-year-old son Hudson with her ex-husband, Josh Hughes. Madison and Hughes split after a five-year marriage, and they co-parent their adorable son together, per Hollywood Life. In addition to spending time with Hudson, Madison revealed in June that she has a new boyfriend! It seems like Madison is ready to step out of the spotlight and concentrate on happiness.